Christmas Countdown: Reality Check Week
Week 2: Oct. 31 - Nov. 6, 2021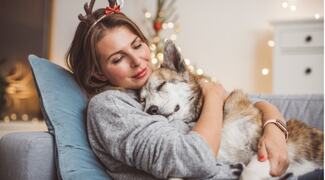 Planning for Christmas isn't all gingerbread and twinkle lights. The season can be a source of significant stress, so this week, we're making a reality check in the Christmas Countdown.
Warning! Holiday reality check ahead!
It's week two of the Christmas Countdown, and time to consider the darker side of the holiday season. Though we may not be conscious of them, hidden holiday forces work to over-run our budgets and distort our decision-making.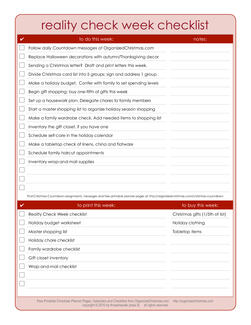 This week, we'll take a hard look at some of the downside to the season.  Over-spending.  Time pressure.  Insecurities amplified by social media, magazines and television programs.  Will our decisions--and our joy--be affected by these forces?
Not to worry! Coming face to face with the reality of outside pressures will make us stronger--and we'll be empowered to bring our celebrations within the circle of our own values. We'll do less ... and enjoy it more!
Ready? Let's get organized!
To Do This Week
Replace Halloween decorations with Thanksgiving-themed decor.

Divide the Christmas card list into five groups. Write and address one group this week.

Make a holiday budget. Work together with your spouse or partner to set a comfortable level of holiday spending.

Divide entries on the master gift list into five groups. Begin shopping for Christmas gifts, and try to buy one-fifth of the gifts this week.

Set up a holiday housework plan. Post it publicly and hold family members accountable for delegated tasks.

Print several copies of the master shopping list to speed errand days. Group to-buy items to make shopping trips easier.

Make a family wardrobe check. Fill out the family wardrobe planner, and put any "To Buy" items on your shopping list.

Do you keep a gift closet, adding new gift items year-round? Take inventory now, before you shop for holiday gifts. 

Establish good health habits to cushion you and your family from holiday stresses. Focus on regular bedtimes, proper diet, mild exercise and stress reduction. Schedule self-care appointments in the holiday calendar.

Make a tabletop check;. Inventory serving pieces, table linens, china and flatware. Check store flyers for sales, and add needed replacements to the shopping list. Will you be ready to set a pretty holiday table?

Schedule family haircut appointments.

Inventory stocks of wrap and mail supplies with a gift wrapping checklist.
To Buy This Week
Begin Christmas gift shopping. Divide the master gift list into five sections. Purchase gifts for one-fifth of the list entries. Wrap gifts as they are purchased. Keep a running total of gift expenditures and enter on the holiday budget form.

Purchase any needed holiday clothing for family members.

If you'll need table linens, serving pieces or decor for the holiday table, add it to the shopping list now!