Christmas Countdown: Get Cooking Week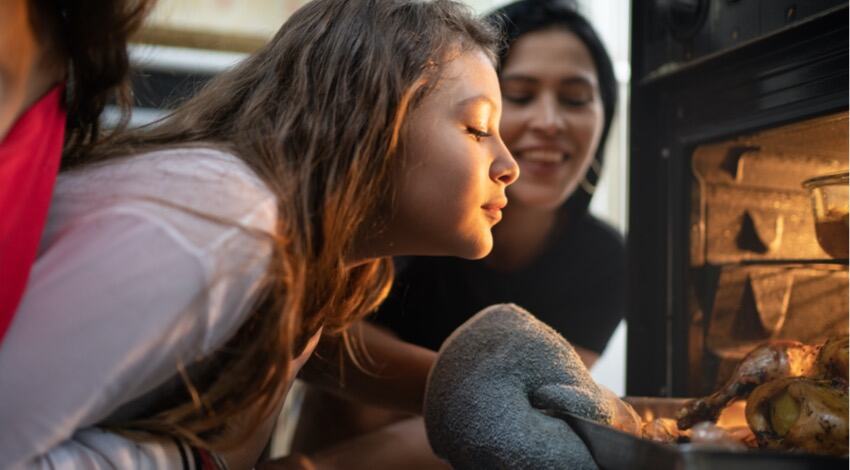 It's all things yummy this week in the Organized Home Christmas Countdown. Get Cooking Week brings order to kitchen, pantry, menus and holiday meals.
We move to the kitchen, where it's all things cooking, as we swing into Get Cooking! week at the Christmas Countdown. 
We'll plan holiday meals and menus, save money on holiday meals, prepare easy freezer entrees for busy December nights, and make holiday baking easier.
Thumbnail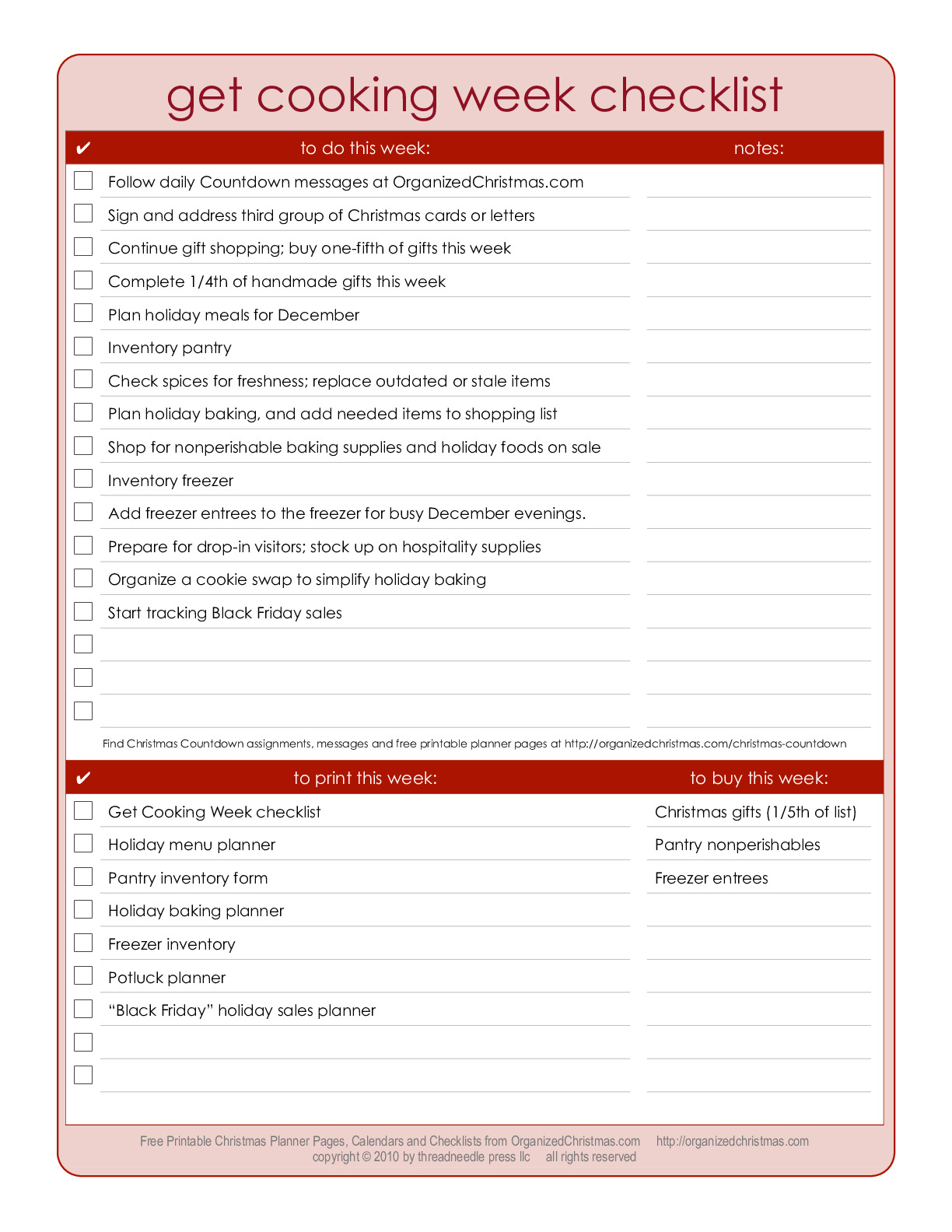 Inventorying pantry and freezer means we'll have room to stock up on bargain-priced staples; a refrigerator clean-out sees us into Thanksgiving week with room to spare. 
Goal: to clean up life in the kitchen, before the holiday rush begins. 
Ready? Let's get cooking for stress-free Christmas holidays!
To Do This Week
Divide the Christmas card list into five groups. Write and address the third group this week.
Complete one-fourth of gifts to make this week.
Fill out a holiday menu planner for each post-Thanksgiving holiday meal that you will serve in your home. Can you delegate to other family members? What about a potluck holiday meal? Plan one with a potluck menu planner. Simplify holiday cooking!
Inventory the pantry, and record contents on a pantry inventory. No more last-minute trips to the store!
Check spices for freshness; replace outdated or stale items.
Start planning holiday baking with the baking planner form, and be alert for supermarket specials. Try to buy nonperishable holiday foods this week and next week for all upcoming holiday meals.
Clean out the freezer, and inventory contents with a freezer inventory form. Make space for holiday goodies and freezer meals.
Clean out the refrigerator.
Where are next week's recipes? Make a note of their location on the holiday recipe tracker to stave off last-minute cookbook searches.
Spot a great new recipe to try? Note it on the recipes to try inventory. You'll have great new dishes at your fingertips.
Do a mini-freezer cooking session, stock up at the supermarket, or visit the meal assembly franchise to put 5 to 10 pre-made entrees into the freezer. Use these meals on busy December evenings. 
Prepare for drop-in visitors. Collect hospitality supplies: cheeses, crackers, frozen desserts. Hide from hungry family members using creative labeling. 
Simplify baking chores: organize a Cookie Swap. Invite 6 to 12 guests to bring as many dozen cookies as there are guests. Swap so that each guest leaves with a lavish assortment of holiday goodies. Freeze immediately, marked as "liver and onions."
Start tracking "Black Friday" sales with a holiday sales planner. Be ready--and organized--to score bargains at the post-Thanksgiving sales!
To Buy This Week
Continue Christmas gift shopping. Divide the master gift list into five sections. Purchase gifts for one-fifth of the list entries. Wrap gifts as they are purchased. Keep a running total of gift expenditures.
Stock up on non-perishable holiday staples.
Freezer entrees