Christmas Countdown: Decorate Week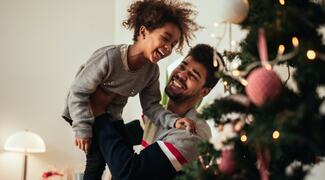 Time to deck the halls! Get ready to decorate for the holidays, with Decorate Week in the Christmas Countdown.
American Thanksgiving arrives this week ... and we've reached Decorate Week at the Christmas Countdown.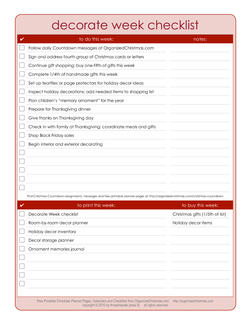 Time to turn our attention to decorating for the fast-approaching holiday season.
This week, we'll discover secrets of frugal holiday decorating, take a quick decorations inventory, enjoy giving thanks with family and friends on Thanksgiving Day, and begin decorating for Christmas. 
It's a busy week (and the holidays are here!) so let's decorate ... for a stress-free Christmas season!
To Do This Week
Divide the Christmas card list into five groups. Write and address the fourth group this week.
Complete one-fourth of gifts to make this week.
Plan holiday decorating with a room-by-room holiday decor planner. Will you know what goes where ... next year? 
Inspect and inventory decorations. Record results on a holiday decor inventory. Check light strands for cracked or broken bulbs. Add needed replacements to the master shopping list.
Does your family give children new ornaments each year? Preserve the memories along with the gift. Print an ornament journal to keep the gift alive! 
Prepare for Thanksgiving dinner, baking desserts and salads ahead.
Give thanks on Thanksgiving Day!
Check in with family members at Thanksgiving celebrations. Ask for gift suggestions, and arrange to share or contribute to holiday meals.
Shop Black Friday sales. Use the"Black Friday" holiday sales planner to organize shopping trips.
Begin interior and exterior decorating.
To Buy This Week
Continue Christmas gift shopping. Divide the master gift list into five sections. Purchase gifts for one-fifth of the list entries. Wrap gifts as they are purchased. Keep a running total of gift expenditures.
Purchase new holiday decor items