Ready for Christmas: Make A Christmas Planner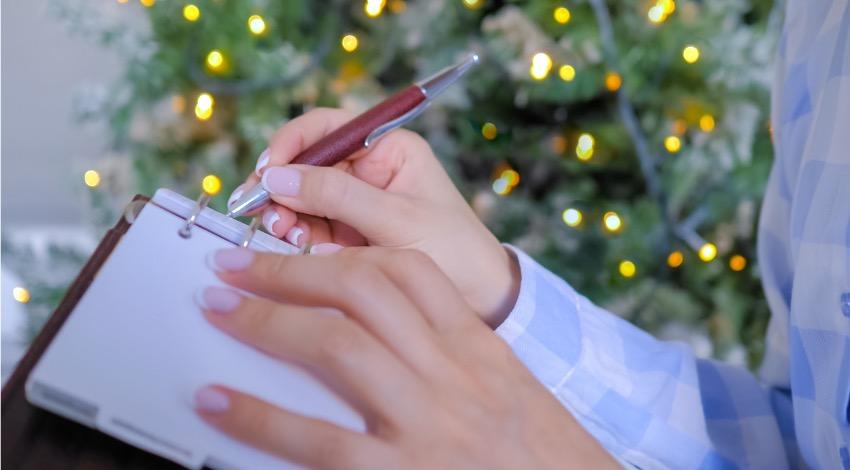 Looking to create a calm and stress-free holiday season? The tool of choice is a Christmas planner: a one-stop location for lists, calendars and menus.  How-to and free printables make it easy!
As we get ready for Christmas, we'll be making lists (and checking them a lot more than twice!), holding discussions with spouses, children and parents, and drawing up a holiday budget. 
Too often, we record our plans piecemeal, consigning them to a confused clutter of scrawled envelopes, jotted notes and cryptic calendar entries—none of which make it to the shopping center with us when it's time to buy gifts.
Organized people keep the results of their work in a central place: a Christmas planner. Complement to a household notebook, it'll track preparations for a stress-free holiday season.
Easy to make and easier to use, a Christmas planner cuts through holiday clutter and keeps planning on track. 
Home to lists and recipes, calendars and gift ideas, this simple tool is the architect and source of a serene celebration.
Find a format
A Christmas planner notebook is usually just that--a standard three-ring binder—but it doesn't have to be. Your Christmas planner may be less conventional: a file stored on a computer, a set of index cards, a spiral steno pad, a section in your personal planner.
Whatever the format, the concept remains the same. The Christmas planner is a single-source reference for all things Christmas, and it will become your best friend as we get ready for the season.
Cover story
A pretty cover sets a happy tone, so create one for your Christmas planner. Paper crafters enjoy adding decorative covers to their Notebooks, but even the art-impaired (like me!) can slide photos or holiday cards into the see-through pocket of a clear-view binder.
You'll want to keep your Christmas planner to yourself, however! It will contain information not for the prying eyes of eager family members.
If Christmas curiosity reaches a fever pitch in your household, consider the Hide-In-Plain-Sight method for your planner cover. Label a binder "Manuals and Warranties" and slide it into the bookcase between college textbooks and old phone directories, or label your Christmas planner section, "PTA Meeting Notes" to keep Christmas secrets until the big day.
Divide and conquer
A good Christmas planner notebook relies on dividers to make information accessible. Every family's needs are different, but most Christmas planners will contain these dividers:
Calendars
Gift Lists
Christmas Cards
Budget
Meals and Menus
Entertaining
Recipes
Décor
Traditions
Other families add dividers for seasonal holidays, service projects, children's' activities, or personal sections for each family member. 
Dividers are as unique and individual as the families they serve, so choose dividers that make sense for you. 
Here are some additional divider suggestions for your Christmas planner.
Thanksgiving
Advent
New Years'
Year-Round Holidays
Birthdays
Rudolph Club
Sale Flyers
Craft Projects
Christmas Baking
Cookie Collection
Recipes Tried and True
Recipes to Try
In the Freezer
Cleaning Calendar 
Inspiration and Faith
Poems and Stories
Music and Carols
Movies and Books 
Web Sites
Décor Room-by-Room
Ornaments
Collections
Storage
Christmas Past
Supply stash
Dividers, lists and forms are only the beginning of a well-seasoned Christmas planner. Add these supplies to the list; they'll make it easier to use your Christmas planning tool:
Lined paper for notes and lists
Clear plastic page protectors
Pocket pages
Large manila envelopes
Post-It brand notes and flags
Zipper pencil case
Pencils, markers and highlighter
Three-hole punch
Christmas Notebook Tip: Make it portable!
Whether you set up a binder, use an existing planner or harness the power of an electronic organizer, be sure you can take your Christmas planner with you. 
Gift lists, shopping lists, clothing size records, wardrobe inventories, decor ideas and pantry planners should be at your fingertips ... anywhere!
Christmas Notebook Tip: Give the Gift!
Making a Christmas planner to organize the holidays this year? Don't stop at one: a pre-made Christmas planner is a welcome gift for a sister or a friend. Include calendars and forms for use next season. You'll get ready for Christmas together!
---
Printables for a Christmas Planner
Keep tabs on Christmas spending with a printable Holiday Budget planner page.  

Best way to an organized Christmas?  Focus on your values before the season.  This worksheet makes it easy!

Planning the holiday season with the help of a Christmas planner?  Add this printable for 2021 Christmas Card list.

The list of lists: a printable Master Gift List for Christmas giving.  Free printable for an organized Christmas.

Santa's best elves know the secret to organized gift-giving:  a gift closet.  Track your store of gift items here.

Get the info you need for great gift-giving, with this printable Gift Ideas Planner.  Tracks sizes, colors, interests and ideas.

Crafting handmade gifts this year?  Keep tabs on unfinished items with a Gifts-to-Make Planner.

Internet/Catalog Order Tracker


Ordering online can get hectic, with emails flying.  Keep tabs on catalog or Internet orders this holiday season, with a printable Internet Order Tracker.

Buying stocking stuffers around the year can save money ... if you can find them.  Solution: a stocking stuffers tracker.

Shopping Black Friday or Cyber Monday holiday sales?  Stay organized with this printable holiday sales planner.

A pretty shopping list lightens the mood ... so try this printable Christmas holiday shopping list with graphic.

Set a pretty table--without stress--with the help of this Holiday Tabletop Checklist.  Get ready for holiday hospitality.

Wrapping, mailing and shipping holiday gifts is easier with the right tools.  Check supplies with this Wrap and Mail Checklist.

Keep the household running smoothly with a Holiday Chore Checklist.  Celebrate from a clean and organized home.

Holiday Home Spruce-Up Worksheet


Plan holiday home improvements--and hone them to the achievable few--with a Home Spruce-Up Worksheet.

Holiday meals are the centerpiece of family celebrations.  Plan holiday menus and meals with this printable.

Christmas is coming! Get the family ready to step out and shine, with this printable Holiday Wardrobe Planner.  

Holiday treats mean new focus on the pantry.  Record holiday ingredients and plan menus with this pantry inventory.

Holiday mornings are hectic enough, without playing "hunt the recipe!"  Record the location of favorite holiday recipes here, for easy access.

What's hiding in your holiday freezer?  Keep a record of baked goods, holiday meals and make-ahead side dishes.

Where's the recipe?  Christmas morning is no time to scour cookbooks for favorite holiday recipes. Record them here.

Organize potluck events for family, church or school with a printable holiday potluck planner.

When it's time to decorate, shop from home, first!  Record holiday decorations on this decor inventory.

Decorating for Christmas?  Know what goes where, with this room-by-room holiday decor planner.

Hauling out the holiday decorations?  Keep track of what's in which box ... with a holiday decor storage tracker.

Christmas collectables are prized in many families.  Manage collections with this printable planner page.

Record the family's favorite Christmas books, holiday music and videos with this printable planner page.

Holiday ornaments are often special gifts with deep meaning and history.  Keep track of ornaments with this printable journal.

What special traditions does your family observe during the holiday season?  Record them for reference each year.

Christmas is coming! Help the little ones--and Grandma, too--with this Child's Gift List.  

Don't let the season end without a record of the high points.  This Holiday Memories page notes the best of the season.  Save the memories!

At the end of the season, try this simple exercise.  Next year, you'll remember what worked ... and where improvement is needed.

Be it resolved:  this is the year you'll keep New Years' Resolutions.  Promote accountability and improve the chance of success with a printable New Year's Resolutions tracker.
Computer-Fillable Versions
Print a Christmas holiday budget planner, to control spending on the holiday season.  Celebrate debt-free!

Holiday Values Worksheet (Fillable)


Secret for a calm and joyous holidays?  Focus on your family's values before the season with this worksheet.

Bring calm to the holiday season with a master gift list.  Computer-fillable for easy updates!

Gift Closet Inventory (Fillable)


What's in the gift closet?  Keep tabs on your stock of stored gifts with this fillable inventory form.

Conquer the gift list with a gift ideas planner.  Computer-fillable, it's a record of sizes, preferences and ideas.

Gifts-to-Make Planner (Fillable)


Crafting holiday gifts this year?  Track progress--and avoid UFOs--with this gifts-to-make planner.

Internet/Catalog Orders (Fillable)


Boxes are flying! Use this computer-fillable tracker to keep tabs on online and catalog orders.

Holiday Sales Planner (Fillable)


Black Friday/Cyber Monday shopping goes more smoothly with this Black Friday sales planner.

Keep tabs on stocking stuffers around the year with this printable.  Be ready for Christmas Eve!

Make every errand count!  Use this computer-fillable shopping list to track holiday season spending.

Holiday Baking Planner (Fillable)


Plan holiday baking with a computer-fillable baking planner.

Wrap and Mail Checklist (Fillable)


Ready to wrap and mail holiday gifts?  This computer-fillable wrap and mail checklist makes it easy.

Holiday Chore Checklist (Fillable)


Stay on top of cleaning chores, with a little help from family members ... and this fillable holiday chore checklist.

Holiday Freezer Inventory (Fillable)


What's in the holiday freezer?  This computer-fillable freezer inventory reminds you of frozen treats and meals.

Holiday Menu Planner (Fillable)


Plan special holiday meals with this computer-fillable holiday menu planner.  Celebrate the season!

Holiday Pantry Inventory (Fillable)


During the holidays, the pantry powers the kitchen.  Keep tabs on holiday goodies and pantry staples.

Holiday Wardrobe Planner (Fillable)


Track family wardrobes for the holiday season on this computer-fillable printable wardrobe planner.

Favorite Holiday Recipes (Fillable)


A quick record of favorite holiday recipes means nobody plays "hunt the cookbook" on Christmas morning.

Holiday Potluck Planner (Fillable)


Church suppers, family dinners and school events need a dish?  Plan potluck menus here.

Holiday Recipes to Try (Fillable)


Around the year, note "want to try" holiday recipes on this simple computer-fillable recipe inventory.

Holiday Decor Inventory (Fillable)


What's in those boxes?  Inventory holiday decorations on this computer-fillable planner page.

Plan holiday decorating room-by-room.  Record ideas and inspiration on this holiday decor planner.

Holiday Decor Storage (Fillable)


Find holiday decorations fast, with this computer-fillable decor storage inventory.  What's in the box?

Favorite books, music and videos are easy to locate each holiday season, listed on this fillable planner page.

Sharing ornament stories each year adds meaning to family decorating parties.  Journal ornaments here!

Holiday Collections (Fillable)


Does your family collect special holiday items?  Record them here, on this computer-fillable inventory.

Remember favorite traditions from year to year:  note them on this fillable "holiday traditions" planner page.

At season's end, answer these simple debriefing questions.  They'll guide your planning, next year.

Computer-fillable party planner makes planning a party easy ... and pretty.

Track party RSVPs and invitations here, with a fillable party guest list.