Christmas Countdown: Celebrate Week
Week 6: November 28 - December 5, 2021
We did it! This final week of the Christmas Countdown sees us into the celebration ... with time to spare.
We're here and it's time to celebrate! 
Celebrate! Week sees us into the full swing of the holiday season, prepared (or nearly so) for a great holiday with family and friends.
Thumbnail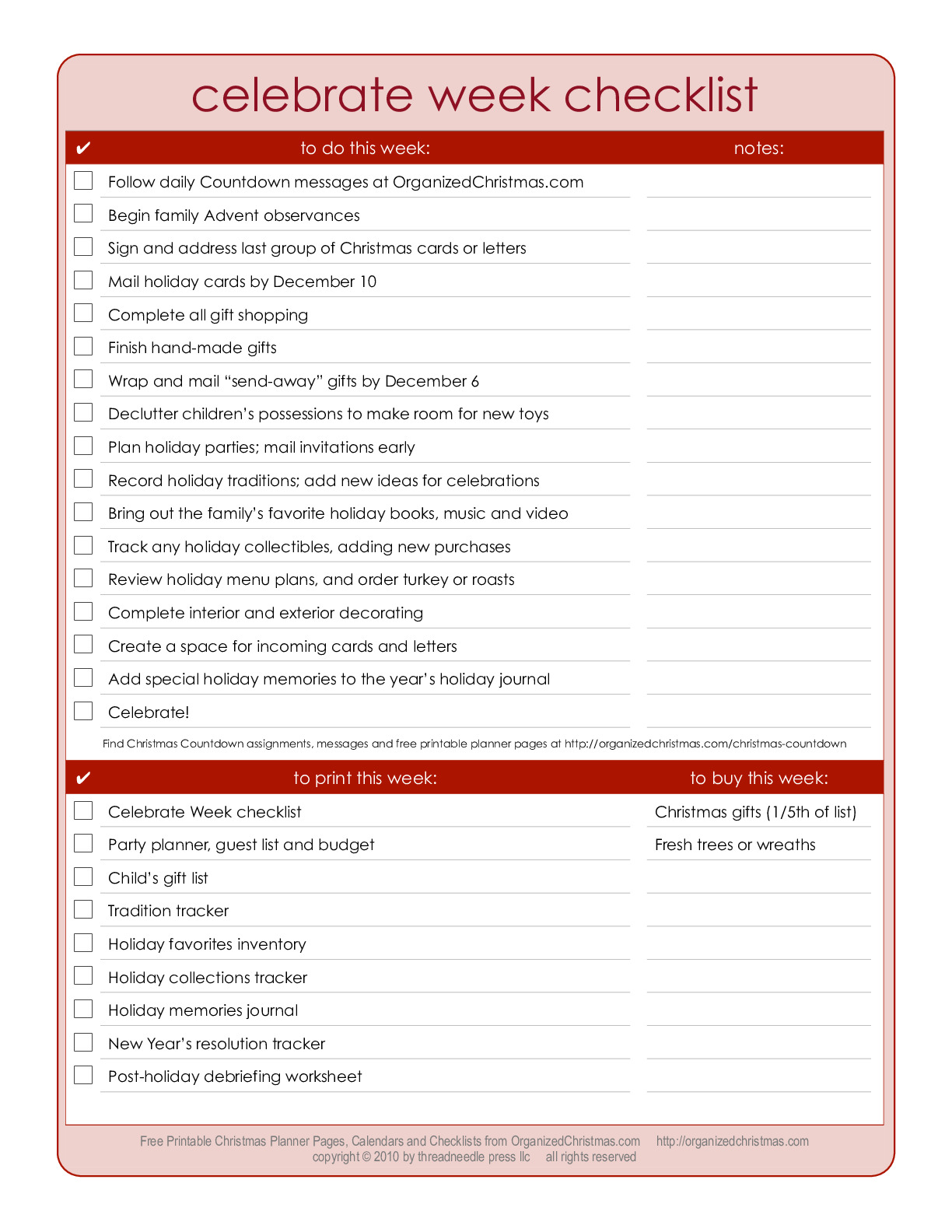 During Celebrate! Week, we complete gift shopping, mail Christmas cards, plan parties and put the finishing touches on holiday decorations. During this phase of the Countdown, we also gather information--memories, traditions, debriefing--that will guide our preparations for next year.
Ready to celebrate? Let's get organized!
To Do This Week
Begin a family Advent observance. Use an Advent wreath, calendar or daily family activity to underscore your spiritual values.
Divide the Christmas card list into five groups. Write and address the final group this week.
Mail Christmas cards by December 10.
Complete all gift shopping.
Complete one-fourth of gifts to make this week. If an gifts have not been completed, put them away for next year. Add any needed replacements to the master gift list. 
Wrap and mail send-away gifts by December 6. 
Hold a pre-season toy declutter to make room for new toys.  Teach children to give with appropriate seasonal activities.
Plan holiday parties using free printable party planning forms. Plan the event with the party planner form, track and record RSVPs on the guest list, and keep the lid on finances with the party budget form.
As a family, broaden your own observance by learning more about other holiday traditions.
Record each year's special traditions on a holiday tradition tracker form. Add new ideas, and record your family's reaction. Keep the memories alive!
Set aside favorite holiday books, music and video for use during the season. Print a holiday favorites inventory to remind you of what's in the family library.
Does your family collect holiday figurines, houses or collectibles? Print a holiday collections record to keep track of Christmas collectibles in your Christmas planner.
Review the Christmas holiday menu plan, and order poultry or special roasts for any holiday meals held in your home.
Cultivate a calm and quiet home during the height of the season. Turn the television off, and substitute reading one evening each week. 
Set out a tray or Christmas card holder for incoming holiday cards and letters
Complete interior and exterior decorating. As a last touch, decorate the front door as a symbol that you are ready to celebrate!
As the season progresses, note special moments in the year's holiday memories journal.
Get resolved! Consider New Year's resolutions carefully, and maximize your chances of following through by writing them down on a New Year's resolution tracker!
On January 5, hold a holiday debriefing. Record impressions, memories and solutions to guide next year's holiday. Placed in your Christmas planner, it'll be ready for you when we start Christmas Countdown 2021!
To Buy This Week
Purchase gifts for the final one-fifth of the master gift list, together with any gift substitutes for uncompleted "to make" gifts. 
Wrap gifts as they are purchased. Keep a running total of gift expenditures and watch the holiday budget!
Buy fresh trees, wreaths and garlands.