Kids and Clothes: Win the School-Day Wardrobe Wars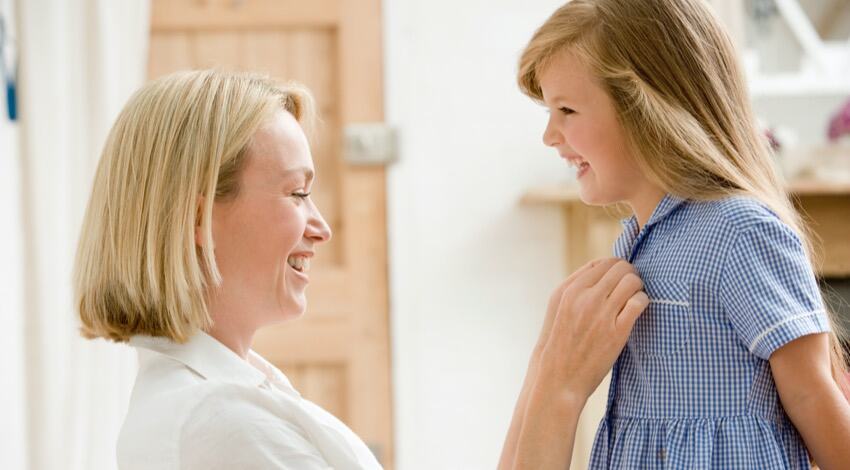 Getting children up and dressed each morning can feel like an exercise in frustration.  Try these ideas to negotiate conflict and resolve issues over school wardrobes.  Up and at 'em!
What to wear? For many families, this simple question is a daily flash-point for conflict on school mornings.
A budding fashionista throws a tantrum if a given outfit doesn't meet her standards, while another child insists on wearing one favorite shirt day after day--laundered or not. Younger children resist getting dressed at all, delaying the whole family's departure--and everyone's mood descends to the basement before the day has even begun.
Win the wardrobe wars! Try these ideas to get 'em up, dressed and off to school on time.
Plan Ahead
Wait until each morning to choose the day's clothing, and you've guaranteed a stressful start to the day. Instead, lay out children's outfits the night before--or use Sunday evening to set aside clothing for the coming week.
Group each day's outfit together on the closet rod, or sort a week's worth of folded clothing onto the shelves of a hanging sweater organizer.  
Planning ahead ensures that "there's nothing to wear!" meltdowns and frenzied searches of the clothes dryer won't disrupt morning routines.
Harness The Power of Choice
Allowing children to choose turns down the volume in the struggle to get them dressed. Even younger children can choose whether to wear the red shirt or the striped one; school-agers can select each day's clothing from already-assembled outfits. Having a choice gives kids a buy-in to the transaction, and helps prevent power struggles.
Better, harness the power of structured choice. Have a kid who's inordinately fond of a single T-shirt? Ask them to choose which day they'll wear Old Favorite during the week. By pre-assembling outfits, and offering your child a choice between them, you can ensure that your little one is reasonably put together, while wearing items of their own choice.
Impose Consequences
Die-hard non-dressers can delay the whole family's morning routine--and make a parent sound like a skipping CD track, chanting "Go Get Dressed NOW!" at two-minute intervals.
Pull the sting by imposing logical consequences for a child who refuses to dress: when it's time to leave, hand them their clothing and take them to school in their pajamas. While you may want to alert school personnel to your efforts to teach independence and responsibility, peer pressure will solve the problem quickly. Whether the child scrambles into their clothing in the car on the way, or heads straight to the restroom to change, the consequences will teach the lesson: no dawdling!
Pick Your Battles
If morning clothing fits are a fixture in your home, take a good look at the causes of the conflict. Sure, you'll need to take a stand when a child wants to wear shorts and a tank top on a frosty day, but is it really necessary to go to that level when the disagreement centers on less important matters? 
If over-strict sartorial standards are sparking disagreements, consider taking a step back.
Learning to choose clothing, coordinate outfits and develop a personal style are life-skills needed by every child. Invest in their learning curve by staying OUT of their decisions, even when you disagree. A child sporting black shoes with beige chinos may set your teeth on edge--but it's not worth the lost energy of a morning tussle. Let them learn and grow!
---
Back-to-School Printables
Get organized for back-to-school with this ultimate back-to-school checklist.  Get organized, gear up and get ready for a new school year.

The start of a new school year can be hard on the pocketbook.  Try these ideas to set a budget and save money on back-to-school shopping.

A one-page record for school contacts and information cuts school-day chaos. Send 'em back to school from an organized home.

Back-to-School Clothing Checklist


Use this printable back-to-school clothing checklist to plan school wardrobes and to note needed items. With space to create lists for two children, it's an easy way to organize school shopping trips.

Lighten the lunch load--and ease hectic mornings--with this printable school lunch planner.