Morning Madness? Tame It With A Family Launch Pad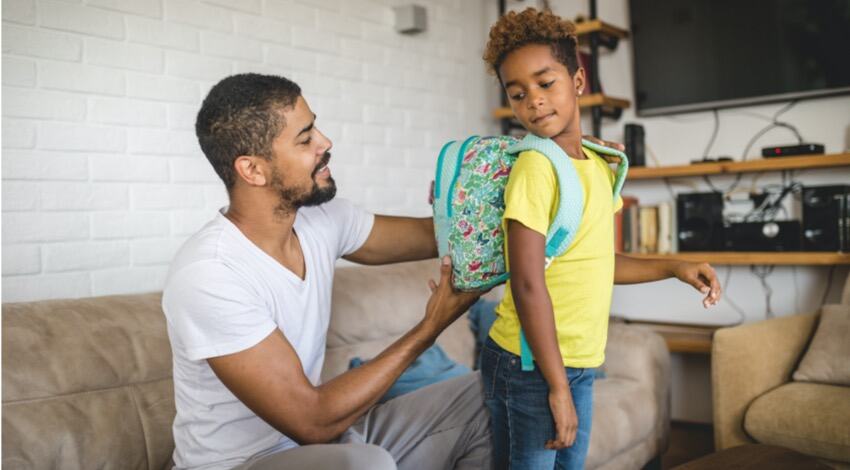 Getting the family off to work and school each day can be chaos ... or calm.  Organize school-year mornings with a family launch pad.
Morning Madness! Only the pre-dinner "Arsenic Hour" comes close in the "Calgon, take me away!" category. 
Bathroom fights, soggy cereal, and the ever-present, "Mommy! I can't find my . . . !" 
Getting the family out the door in the morning can make any parent want to pull the bedclothes up and hide.
One small concept can go a long way to taming the morning beast: the family Launch Pad. Just as a spaceship must have a dedicated structure to support liftoff, so family members need a Launch Pad to stabilize them as they blast out the door.
What is a Launch Pad? It's a dedicated space for each family member:
A single location to contain all the "out-the-door" essentials of life. Setting up a Launch Pad can be as simple as clearing a shelf in a bookcase and designating the area the family's Launch Pad.
For the short stuff, the Launch Pad is home to permission slips, lunch boxes, homework, library books and science fair projects. For the household's "big kids", the Launch Pad holds handbags, car keys, return videos, dry cleaning and the day's ration of Slim-Fast. One place. One special place to corral items every family member must have to leave the house each morning.
Enhance the chaos-calming potential of the Launch Pad by observing these organizing guidelines:
Corral and Contain
"Stuff" should always have discrete limits. So you've cleared the shelf in that bookcase? Add a different-colored plastic dishpan for each family member, and nobody's field trip permission slip will walk to school with the wrong sibling--or slide behind the shelf, to be unearthed during next year's Spring cleaning.
"Putting away" should always be easier than "getting out"
Those colored dishpans are a good example. Child comes home from school, tosses homework and lunch menus in her dishpan. Dad comes home and tosses paycheck, keys, billfold, receipts and pocket change into his dishpan. There things stay, safe and segregated, until they are needed next morning.
The easier it is to "put away", the more likely it is that belongings will be put away.
Creative spaces
A Launch Pad need not be a space on shelf or table. One family trains children to the backpack habit. Each child has a backpack. Each backpack lives on the back of its owner's dining chair. Lunches, papers, gym clothes go directly to the chair-mounted backpacks. Result: Launch Pad!
A teacher-recommended solution for younger children combines the Launch Pad with an answer to the "child art" dilemma. Purchase one of the hanging chains with clips designed to be hung from a ceiling to store stuffed animals. 
When your preschooler comes home clutching his "papers", artwork will be clipped to the upper regions of the chain, while homework, permission slips and immunization notices live on the lower links. Neat!
Mom's included, too! A home manager's Launch Pad can contain handbag, car keys, store coupons, Redbox videos and library books. 
One advantage to being tall: you'll never again "lose" the car keys to a rampaging toddler if you establish your Launch Pad in a dishpan on a high shelf!
Nothing can truly cure Morning Madness, but establishing family Launch Pads can go a long way toward easing the symptoms. 
Make like NASA and set up Launch Pads for your family members--for a smooth morning countdown and an easy liftoff to the work of the day!