Closet Case: Save Money on School Clothes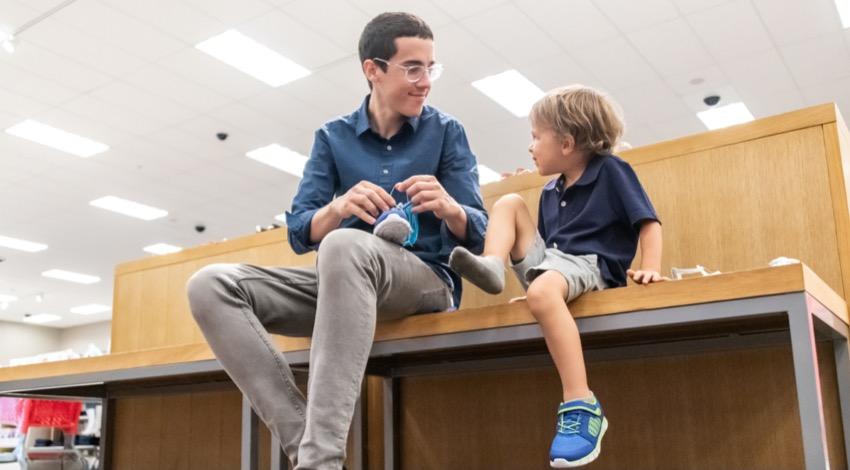 Outfit the family for a new school year--and save--with these tips to organize shopping for back-to-school clothes.
Gearing up for a new school year? Don't get sticker shock when shopping for school clothes! 
The cost of clothing the children for a new school year can be staggering. Even clothing in good repair may no longer fit a growing youngster after the summer holiday. If you've got a budding fashionista on your hands, your child's list of must-have items can swell out of all reality.
How to send them back to school in style ... and on budget? Try these ten ideas for saving money on school clothes.
Make a Wardrobe Check
What do the children need for school? Get in the know before you go!
Take an hour and check children's closets before heading to the mall. Consider whether items fit, what condition they're in, and whether they coordinate well with the rest of the wardrobe. 
Use our School Clothing Checklist to identify what each child needs to be ready for the first day of school.
As you go, remove outgrown and worn out clothing from drawers and closets. You'll make room for new purchases--and make school-day mornings easier--when you cut the clutter.
Stick To Your List
Impulse purchases can be real budget-killers. Sticking to your list while shopping makes sure your budget goes toward items that are truly needed.
Better, a written list helps focus family decision-making when shopping for school clothes. No matter how your little one pleads, if it's not on the clothing checklist, it's not in the shopping cart.
Build On the Basics
Inexpensive basics like T-shirts are a great way to build wardrobe variety at a low cost--and because these items tend to be trendy, their relatively short life-span is a bonus. 
Buy a reasonable selection now, then replenish stocks of T-shirts, socks and tights throughout the year, to keep kids' wardrobes fresh.
Buy Good, Once
By contrast, big-ticket items such as winter coats can be expensive to replace mid-winter if they don't hold up. Paying a bit more for quality pays off over the course of the year.
Better still, purchase coats and outerwear from retailers with generous return policies. If a zipper breaks or a seam rips, you'll be able to replace the garment.
Shop On Sales Tax Holidays
Does your state offer sales tax holidays? If so, you'll save 7 to 10% on the cost of school clothes by taking advantage of the tax breaks.
Hold Out for Clearance Sales
Smart back-to-school shoppers know that the hottest clothing on today's back-to-school displays will hit the clearance racks shortly after Labor Day. 
Buying one or two new outfits now, then completing the list during September's clearance sales saves money--and with fewer shoppers in the store, shopping "late" saves stress, too.
Stretch the Shopping Season
The school year lasts for nine long months ... and children grow, and grow, and grow. Buy it all now, and you're apt to find tight waistbands and too-short trousers in the closet come Spring.
To shop smart, stagger school clothing purchases throughout the year. Hitting seasonal clearance sales in mid-September, after the Christmas holidays, and in February's winter clearance sales cuts the cost of keeping children in shoes and clothes.
Recycle and Repurpose
"New" isn't the only way to go, when it comes to back-to-school shopping. Consignment stores, thrift stores and yard sales are great places to find top-quality children's clothing at bargain prices.
If you're handy with needle and thread, look at kids' wardrobes with an eye to repurposing. Too-short pants become wearable shorts with a new hem!
Build Your Budget With Resales
Don't miss the chance to build your back-to-school budget with creative reselling. Children's clothing in good repair fetches premium prices at yard sales, so organize a back-to-school garage sale to clear last year's clothes ... and score some cash for current needs.
Consignment shops offer another avenue to resell children's clothing for cash or store credit. They're a great place to cash in on high-quality or fashionable garments you no longer need.
Organize a Clothing Swap
Finally, cut out the middleman when reselling children's clothing by organizing a clothing swap with other families. Circulating outgrown clothing with friends builds variety in the kids' wardrobes ... and the price is right!
---
Back-to-School Printables
Get organized for back-to-school with this ultimate back-to-school checklist.  Get organized, gear up and get ready for a new school year.

The start of a new school year can be hard on the pocketbook.  Try these ideas to set a budget and save money on back-to-school shopping.

A one-page record for school contacts and information cuts school-day chaos. Send 'em back to school from an organized home.

Back-to-School Clothing Checklist


Use this printable back-to-school clothing checklist to plan school wardrobes and to note needed items. With space to create lists for two children, it's an easy way to organize school shopping trips.

Lighten the lunch load--and ease hectic mornings--with this printable school lunch planner.