House & Holidays Plan Week 1: Planning and Paperwork
August 29 - September 4, 2021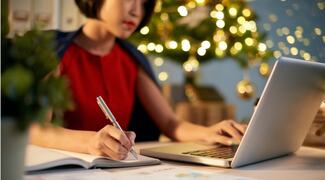 Kicking off the House & Holidays Plan this week, and we're starting with planning and paperwork.  Get organized for Christmas!
Are you ready to make a plan ... to simplify your holidays and celebrate the season? Welcome to the House and Holidays Plan!
Working week-by-week, we'll celebrate Autumn holidays, prepare for Christmas, and create a clean and organized home for the holidays.
As we begin our journey to a clean and organized holiday house, one job comes first:  organizing planning and paperwork.  Where do you go to pay bills, keep a calendar, or handle the mail?
Whether it's a dedicated home office or a rolling file cart under the dining table, it's time to declutter, organize and clean the planning area.  A holiday prep bonus:  we'll set up a Christmas organizing planning center this week, so we can move ahead with holiday season preparations.
This Week's Focus: Planning and Paperwork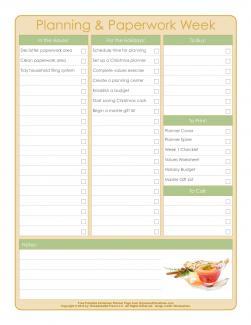 To make a good beginning takes planning. Where do you go to dream, to budget, to plan? This week in the House and Holidays Plan, we turn to our home's planning center. How is it working for you?
This week, we'll clean, organize and declutter the home office or planning area, and begin the basics of holiday planning: our values, our budget and our gift list.
This Week's Household Checklist
Declutter and clean the home office or paper handling area.  Declutter home office or household paper-handling areas this week. Think STOP--Sort, Toss, Organized and Put away--as you clear clutter from your space. Once free from clutter, clean the workspace for a fresh start to the Plan.
Set up a basic household filing system. A clean and clutter-free workspace is half the battle; next up in the war on paper clutter? An efficient household filing system. Get up to speed on the ABCs of household paper management in your organized home.
This Week's Holiday Prep Checklist
Make the promise! Plan time this week to begin preparing for the holiday season. Even 15 minutes three times a week will make a good start on holiday prep.
Set up a Christmas notebook. Whether it's a simple three-ring binder, a section in a paper planner, or a database on computer or PDA, make a Christmas planner to hold holiday calendars, checklists and planner pages.
Focus family values. Using the Family Values Worksheet, identify and focus the values your celebration will serve.
Create a Christmas activity center. Whether it's a simple basket or a dedicated space with a comfortable chair, set aside an area for holiday planning.
Establish a holiday budget. Credit card debt is nobody's idea of a great Christmas gift! This year, set financial limits before you plan the celebration. Tool of choice: a holiday budget form. Keeping tabs on expenditures as you prepare prevents overspending on the holidays.
Consider a Christmas savings plan. Start now to save money for Christmas. Whether you open a dedicated bank Christmas Club account, set aside cash each week or add to a gift card balance, begin to accumulate funds for holiday spending now. Your wallet will thank you, come January!
Begin a Master Gift List. Make a master gift list now. In the weeks to come, you'll check it a lot more than twice to organize holiday gift-giving.