Summer Cleaning Chore Checklist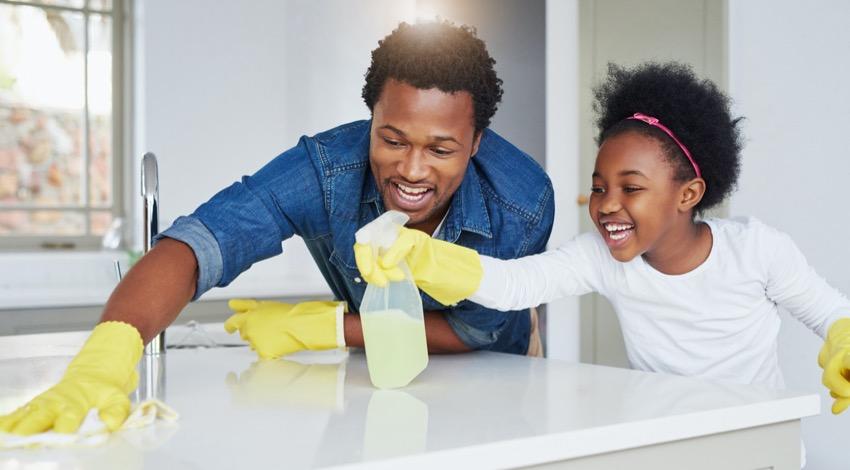 The heat is on!  Keep tabs on summer chores with a simple checklist for hot weather.  Keep your cool in an organized home.
Summer's here, hot, high and sweaty. Vacations beckon. The garden takes on a life of its own.
Busy families don't have much time for home chores these months. School's out, travel's in and it's easy to let life slide on the home front.  
These weeks will run more smoothly if you keep tabs on these important areas in the Summer Cleaning Chore Checklist.  This summer cleaning chore checklist list tackles hot-weather issues, summer health and safety.
The Inside Story
Make the season count. Late summer is a slow time for home maintenance and cleaning companies. Look for summer discounts from carpet cleaners, gutter installers, and window washing firms, and get the jump on fall cleaning!
Think ahead to fall's cold weather. Schedule furnace maintenance now and beat the October rush.  You'll be snug and warm that first cold night--and your HVAC specialist will thank you!
Prepare the medicine chest and first aid kit for summer's little medical emergencies. In the bathroom, dispose of outdated medication as recommended by local health authorities. Be sure the first aid kit has ample adhesive bandages for scrapes, calamine lotion for insect bites, and hot/cold packs for strains or sprains. Use the printable checklist below to stock the first aid kit.
Make an emergency list for baby-sitters and school kids on vacation. Print an emergency information page to post by each household telephone. Include phone numbers for the fire department, police, poison control, and ambulance. Don't forget numbers for parents at work, a family contact, and nearby neighbors. Be sure to write the home address on the list; it will aid rescuers if help is needed.
Tackle patio and sliding door tracks. Summer is open-door season, so be sure your doors open smoothly. Grab a bottle of all-purpose (degreasing) cleaner, a screwdriver and lots of rags.  Spray the tracks generously and let sit for a few minutes to soften. Wrap the screwdriver with a rag, and make several careful passes along the track to get out the gunk.
Print vacation packing lists for family travel. Include travel packing checklist for each family member. Between vacation trips, store the lists inside the luggage or add them to a household notebook.
Check washing machine hoses. Replace them if you find cracks or bulges--or if they're over two years old.
Hold a garage sale. Declutter house and garage to turn cash to trash; make it easy with a yard sale checklist.
About the House
Pest patrol: inspect yard and garden for carpenter ants or termites. Call an exterminator if you see signs of infestation. Beware of fire ants in the South! If you see telltale mounds, treat with grits or borax. Keep borax away from children. 
Keep tabs on decks, siding and trim. Will you need to perform touch-up work before winter? Order paint and be ready for the first cooler days of early autumn.
Control garbage can odor with a can clean-out. 
Rinse garbage cans with a hose, dump the water, then spray with disinfectant.   Let the cans sit for 10 minutes, then rinse again. Turn upside down to dry.
Inspect gutters, and clean out any leafy debris. Summer thunderstorms won't faze you if your gutters are in good working order. 
Make a safety inspection of children's outdoor play equipment. Tighten loose bolts and cover with plastic protectors.