Too Early To Think Christmas? Starting Now Makes Sense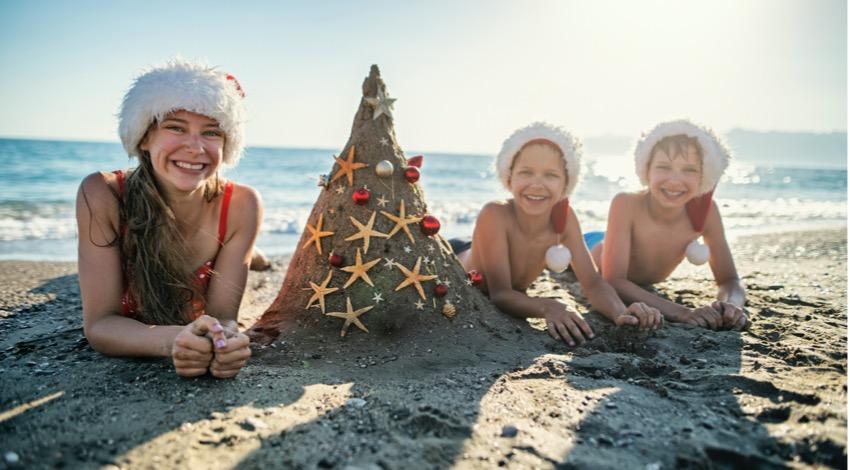 Start holiday planning when summer rules?  Sure!  Here's why it makes sense--and cents--to start planning early for the Christmas season.
Summer's in full swing--and baby, it's hot outside! Need a diversion? Late summer is the perfect time to look ahead to the holiday season! 
Start Christmas planning now, and you'll reap abundant benefits come December. But not everyone agrees. Citing "Christmas creep"--the tendency of retail stores to display holiday merchandise while it's still summer--many people resist the idea of starting early for an organized Christmas.
So why begin Christmas organizing early--and without the benefit of holiday sentiment? Here are six reasons why starting now makes sense--and will help you have more holiday joy, less holiday stress come December:
Keep Control of Holiday Decision-Making
Yes, the holiday spirit can be magical--and can lead to magical thinking. Those who wait until the spirit moves them to plan their holiday season often find their decisions swept away by the Christmas tide, not made by their conscious choice. 
Whether they over-spend, over-schedule or over-indulge, they're dancing to the season's tune, not in charge of their own celebration. Result: debt, stress and holiday chaos.
Advance Christmas planning puts you--not sentiment--in the driver's seat. When setting a gift budget, making travel plans, or scheduling your time, you're more likely to have a realistic view of your limitations and your family's values when considering the season from a safe--and early--distance.
Best of all, planning the holiday season early allows you to enjoy the season fully. Secure that your spending, activities, traditions and celebrations are those that truly reflect your values, you're free to enter into the spirit of an organized Christmas. 
Decide first, celebrate later!
Make it an All-Cash Christmas
For too many families, Christmas is the gift that keeps on giving, in the form of credit card balances that linger for months into the new year. When buying decisions are swayed by last-minute sentiment or the pressure of deadlines, it's too easy to turn to plastic to bankroll the holiday season.
Setting a holiday budget now makes it easier to achieve an all-cash Christmas, while planning early helps find the funds to celebrate in style. Better still, having gift lists and pantry needs organized in advance helps savvy shoppers take advantage of seasonal specials as they arise throughout the Autumn weeks. 
Starting now means you'll spend less, get more, and keep the bills off the credit card balance. Because consumer debt is nobody's idea of a Christmas gift! 
Take Time to Renegotiate Gift Exchanges
Growing families, economic circumstances or a new commitment to holiday simplicity can signal a need to renegotiate gift exchanges. Perhaps an office Secret Santa tradition has gone over-the-top in recent years. It may be time to readjust gift-giving practices in your extended family, or reel in inflated holiday expectations.
Whatever the scenario, starting early makes it easier to renegotiate gift exchanges with a minimum of drama or hard feelings. Waiting until Thanksgiving to advise adult siblings that your family won't be participating in the annual gift exchange can backfire, if the sibs in question have already purchased gifts!
Raising the issue before the season provides breathing room for what is often an emotional interchange. Even if the decision to scale back or renegotiate gift-giving isn't welcomed by all the participants, doing it now means there is plenty of time to have it out and have it over with before the holidays arrive!
Embrace a Handmade Holiday
Will you create your own holiday gifts and crafts this year? Planning ahead is essential to success; nobody wants to spend December nights rushed and harried at the crafts table.
Whether you're new to giving hand-crafted gifts or not, starting holiday preparations now give you plenty of time to start--and finish--handmade holiday gifts and crafts. 
Similarly, crafters will find the season's best selection of kits, materials and supplies on sale now. 
Wait until December 1 to plan homemade gifts, and the project shelves at the local crafts store will seem mighty bare. 
Handmade is the new hot holiday gift--so start now to join the fun!
Tune Into Family Traditions
It's the most wonderful time of the year ... but not when it happens haphazardly! A disorganized Christmas celebration can leave out the most meaningful expressions of the season: family traditions.
Starting early on holiday preparations ensures that seasonal traditions--not seasonal tasks--take center stage. You'll have ample time to purchase Nutcracker tickets, throw a neighborhood cookie swap, or take a drive to see the lights if you're not rushing around with last-minute checklist in hand.
Separate the Chores From the Celebration
One last reason to make holiday plans early? Joy!
Sure, the holiday hustle and bustle can be very appealing--but who really enjoys a stroll in the mall when they're burdened by a long gift list and under time pressure? By tending to Christmas chores on the early side, you're free to jump into an organized Christmas with a happy, unencumbered heart.
A long lead-in to the holiday season breaks down the work into small, easy-to-achieve steps. Doing a few chores each week, you'll be ready to celebrate the season more fully, more joyously--and without the stress that comes from too much to do, to little time to do it. 
You'll do less, enjoy it more ... with an organized Christmas!