Settle In: Create A Christmas Planning Center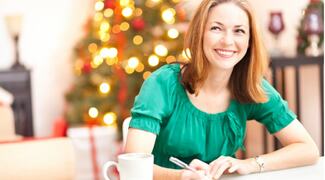 Boost the joy of planning for the holidays:  create a simple holiday planning center.  A space for tools, supplies--and inspiration!
When planning for the holiday season, why try to wing it, on the fly? 
Making lists on the go often finds them scattered in your wake, never to be found again.
To stay centered as you plan the holidays and get into the seasonal swing in comfort, find a place in your home to create an activity center devoted to Christmas planning. 
A dedicated spot to make gift lists lists and track menus keeps holiday planning on track.
An "activity center" is a key home-organizing concept. Borrowed from those mistresses of controlled chaos, pre-school teachers, an activity center combines a focus, a dedicated area, and storage for tools and supplies in a single location. For example, sand play is easy at the sand table, and clean up is even easier if shovels and dump trucks live in open bins stacked beneath it.
Just as little ones know where to go to play dress-up, your Christmas planning center is the place you'll go to make Christmas lists, address Christmas cards, organize décor ideas and plan menus. It's home to Christmas planning and information, so use these tips to create a pleasant and efficient place to prepare for the holiday to come.
Pick your place
Where will you settle to mull over gift lists and dream about décor? Choose a cheerful, well-lighted location for your Christmas activity center: a comfortable chair in a cozy corner, a seat at a writing desk or secretary, or your favorite spot at the kitchen table. Comfort is key!
Store your stuff
Next, find homes for these Christmas planning tools within easy reach:
Christmas planner
Pens and pencils
Christmas cards
Address book
Stamps
Mailing labels
Stapler
Sticky notes or tape flags
Accordion file or hanging file folders for tear files
Christmas magazines
Mail order catalogs
Cookbooks
Recipe files
Christmas books
Lap desk or writing surface
Convenient storage options include nearby bookcases or shelf space, a pretty chair-side basket or shallow plastic storage container slipped beneath the skirt of an upholstered chair.
Christmas planners with smaller quarters may prefer to create a portable activity center. Tuck notebook, address book and cards, magazines, books, files and supplies into a rolling cart or large tote that can roam with you when it's time to plan. 
Add a lap desk, and you're ready to plan from any comfy chair or sofa corner.
Spark your senses
You'll settle into the Christmas planning center to browse catalogs, prepare menu plans, address Christmas cards, and review gift lists, so make your center a warm and pleasant place to be. 
As you plan, invoke a holiday spirit! Light a scented candle, play seasonal music or stoke up the nearby fireplace for a cozy atmosphere. Tuck a warm throw over the back of the chair, and cushion feet with a plump pillow. Framed photographs of loved ones adds a friendly touch, while a mug of hot chocolate is a tasty bonus!