House & Holidays Plan Week 16: Nearly There Week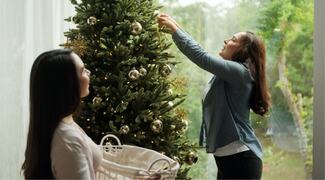 We're nearly there: it's Nearly There Week at the House and Holidays Plan! Christmas parties, cooking and a growing sense of excitement mark these days before Christmas. 
Around the house, only minimum maintenance is needed this week.
The week's holiday prep checklist includes the last few chores to get ready for the big day.
Are you ready? Welcome to a clean and organized home for the holiday season!
This Week's Focus: Nearly There
With the season nearly upon us, it's time to rely on minimum maintenance to keep the house up to snuff during busy times.
This Week's Household Checklist
Make a minimum maintenance plan. It's the organized solution for busy times: a rock-bottom chore checklist of must-do household chores. Does your household have one? Create a minimum maintenance checklist and post it publicly.
Delegate chores to family members. Encourage family members to pitch in and share the work. Delegate, delegate, delegate--to keep a clean and organized home throughout the Christmas season and around the year.
This Week's Holiday Prep Checklist
Decorate and wrap baked goods.  Finish holiday baking this week. Ice the sugar cookies, assemble the goodie trays and wrap for giving. Stowed away in the freezer, they're a quick solution to the "emergency gift" problem.
Record a special holiday message for the answering machine. Whether you sing a carol as a family, or record a message from "Santa", share the season with callers with a custom message!
Start or add to an ornament journal. Many families give children collections of holiday ornaments; add meaning to the gift with a simple journal page recording who-what-where of each ornament.
Make a Christmas morning basket. Think ahead: what will you need when opening gifts on Christmas morning? Include a notepad, pen, scissors, box cutter and plastic garbage bags. Throw in a pair of pliers and some wire cutters to release those pesky over-packaged toys. Set aside in a pretty basket to cut chaos on Christmas morning.
Help children write letters to Santa. (And keep them! Misspellings and all, you'll treasure them in later years).
Start a holiday journal. A simple holiday journal page in your Christmas planner can mean the difference between a memory treasured and a memory lost. Record the season's high points as they happen!