House & Holidays Plan Week 15: Final Clean Week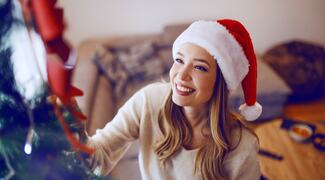 The season is nearly here; time for one last round of finish cleaning in the House & Holidays Plan.  
Two weeks before Christmas? It's time for a final finish cleaning at the House and Holidays Plan. 
Over the past weeks, we've decluttered and deep-cleaned; this week's goal is to bring the whole house into a ready state for the remainder of the season. A "final clean" week will put a surface shine on our home!
In holiday prep, we'll finish gift shopping, complete gift wrapping, plan Christmas dinner, mail Christmas cards and bring home the ultimate seasonal symbol: the Christmas tree. Celebration ahead!
This Week's Focus: Final Clean
One last push toward a clean home is our household focus on this busy week. We'll be busy completing gift shopping, mailing Christmas cards and finishing holiday decorating.
This Week's Household Checklist
Do a final pre-holiday whole-house clean. Sure, we've tackled household areas week-by-week and the deep-cleaning is done--but this week, it's time to polish up our work with a final whole-house clean. Play cleaning service this week, and give every room a top-clean session of dusting, vacuuming and final touch-up. You'll bring the entire house to a holiday-ready state. Time to celebrate!
This Week's Holiday Prep Checklist
Wrap party! Hold an informal "wrap party" brunch or evening for friends. Work on wrapping packages together. At the end of the party, swap leftover supplies for a fresh look next year.
Eat from the freezer. Use stockpiled freezer meals on busy nights. 
Plan Christmas menus. Make a simple menu plan for Christmas week. Delegation is easier if you have an idea of what's for breakfast ... or lunch, or dinner.
Update address book. As holiday letters and Christmas cards arrive, update the address book with any changes.
Mail Christmas cards or holiday letters. 
Complete gift wrapping.
Buy Christmas trees and/or fresh greens. 
Check cameras and camcorders  Be ready to capture the moment.  Will you need to buy film, batteries, cassettes or storage media?  Add any needed items to the shopping list.
Make an under-tree "emergency box".  Use a gift-wrapped box with removable lid.  Placed under the tree, it holds extra bulbs, fuses, ornament hooks and batteries.