House & Holidays Plan Week 14: Storage Week
November 28-December 5, 2021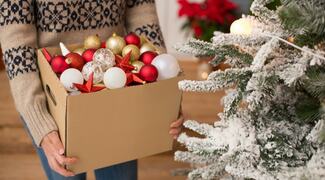 Holiday decorations--and the storage spaces that house them--are front-and-center in the House & Holidays Plan this week.  Time to decorate!
December's here and with it, the fullness of the holiday season. This week in the House and Holidays Plan, decorations shine bright as we prepare a welcome home for the holiday season!  
As we remove decorations from storage, we'll focus on the storage space they call home the other eleven months of the year.
In holiday prep, the season moves toward full swing with the coming of Advent. It's time to begin Advent observances, complete gift shopping, mail send-away gifts and work on holiday decorating.
This Week's Focus: Storage Space
With decorations the focus of this week, we'll give our storage spaces a good overhaul as we pull out boxed holiday decorations. 
And now that December's here, we'll begin to consider family traditions and service projects. 
This Week's Household Checklist
Organize storage areas. Ransacking a crowded attic is nobody's idea of a good holiday time. This week, organize household storage areas as you bring forth holiday decorations. Whether it's attic, garage, closet or shed, take time to tidy up household storage.
Assess decor storage needs. Getting out holiday decorations, it's easy to see where the household is falling short. Make note of any needed storage containers, and add them to the shopping list. When you see them on sale, buy! Inexpensive storage organizers can help keep clutter from creeping into corners--and a neat storage area will make it easier to return decorations to their year-round home at the season's end.
This Week's Holiday Prep Checklist
Shop Cyber-Monday sales. "Black Friday" has exploded into a five-day shopping event--and all those sales can be confusing! Keep track with a printable holiday sales planner to complete your holiday shopping at bargain prices.
Status check.  This week, review where you stand with holiday prep. Crafts projects and homemade gifts should be finished soon; check for any missing catalog or online orders. Will everything arrive in time?
Begin family Advent observances.  Advent begins on Sunday; begin family observances now.
Invite a Magic Elf to visit. Will a magic elf visit your home this year? Check out this simple, sweet family tradition.
Continue holiday decorating. Take advantage of the post-Thanksgiving lull to bring out holiday decor and artificial Christmas trees. Families who prefer a live tree will want to wait a bit, to ensure that the tree will be fresh and green for Christmas.
Finish gift shopping. It's time! Complete gift shopping this week.
Wrap gifts as they are purchased. Every little bit helps, so wrap ahead where possible--you'll avoid a long, rushed session of "get-it-done" gift wrapping!
Package send-away gifts for mailing. Mail deadlines loom! Be ready to mail send-away gifts by the end of the week.
Mail domestic gifts.   Just say "no!" to lines at the post office; visit USPS.Com to purchase postage, print shipping labels and arrange for carrier pick-up with the Click-n-Ship program--all from the convenience of home!
Order the Christmas ham, roast or poultry. Your meat market will thank you for ordering before the rush!