House & Holidays Plan Week 12: Dining Space Week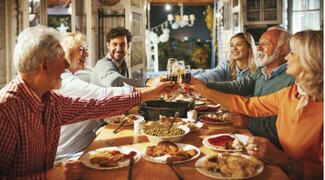 This week, America gives thanks ... and we're tackling the dining room in the House & Holidays Plan.  
America celebrates Thanksgiving next week, gathering family and friends around the dining table. This week in the House and Holiday Plan, we'll see to it that the celebration takes place in a clean and organized dining area.
Holiday prep focuses on the Thanksgiving celebration: we'll finish planning and shopping for Thanksgiving dinner, plan Black Friday/Cyber Monday shopping, and think ahead to seasonal decor for the holiday season.
This Week's Focus: Dining Space
On Thanksgiving, we gather family and friends to express our gratitude for the many blessings of this life, and the heart of the celebration lies around the dining room table. This week, we'll prepare the dining room or dining area to host the feast. 
Final preparations for Thanksgiving include mapping out a strategy for Black Friday/Cyber Monday shopping. If we're giving a holiday party, now's the time to start planning.
This Week's Household Checklist
Dive into the dining area. With next week's feast taking center stage, prepare a worthy dining area for your holiday celebration. Declutter and deep-clean the dining room or dining area this week.
Get set for the Thanksgiving feast. Once the dining room is clean and free from clutter, prepare for Thanksgiving dinner. Polish fine furniture, tidy any storage areas, and if needed, add extra leaves to the dining room table. Set the stage for a lovely holiday meal!
This Week's Holiday Prep Checklist
Firm up plans for Thanksgiving Day.  Plan table settings, seating and a centerpiece for Thanksgiving Day. Check the menu plan, and start thinking about a timeline for meal preparation.
Finalize the Thanksgiving menu. Check in with family members, delegate dishes, and be ready to celebrate.
Start a Black Friday Sales game plan. Online bargain sites and e-mail alerts allow Web-savvy shoppers to spot the best deals days before Black Friday. Make entries in your holiday sales planner and plan next week's shopping strategy as information comes to light.
Plan holiday parties.  If you'll entertain next month, make plans now. You'll be prepared to issue invitations and check calendars with family and friends during next week's Thanksgiving celebration.