House & Holidays Plan Week 11: Food Storage Week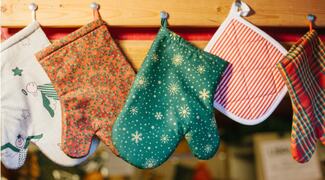 Holiday cooking puts new emphasis on food storage spaces:  pantry, refrigerator, freezer. This week, we'll clean, organize and prepare food storage spaces for Christmas.
American Thanksgiving reminds us to be grateful for our bounty--and in most homes, that blessing is most clearly seen in the larder. This week in the House and Holidays Plan, we'll declutter, organize and clean food storage areas. 
In our homes, refrigerator, freezer and pantry hold a wealth of foodstuffs--and with holidays ahead, these food storage areas will be called into front-row service.
Whether you have a single shelf and refrigerator-top freezer unit or dedicated areas for pantry and freezer storage, it's time to bring order to the larder.
Holiday prep chores run in harmony this week. We'll inventory the freezer and pantry, take advantage of seasonal sales to stock up, and build frozen assets to see us through December's busy evenings.
This Week's Focus: Food Storage Areas
Our homes hold an amazing bounty in pantry and freezer, and never more so than during the holiday season. This week, we turn to food storage areas in our home to prepare them for the coming weeks.
Whether your home includes a dedicated pantry and stand-alone freezer, or simply stockpiles food in cupboards and corners, it's time to clean and organize areas used to store food. Include the refrigerator in this week's activities, to bring order and make space for holiday goodies.
In holiday prep, we'll check equipment, supplies and ingredients so we're poised to prepare Thanksgiving dinner with ease.
This Week's Household Checklist
Clean out the refrigerator. Time for a refrigerator clean-out. Make space for holiday cooking by tossing expired bottles and jars, and bring holiday sparkle to the Great White Whale with a top-to-toe cleaning session.
Clean out the freezer. In the freezer? We'll cull the clutter, organize the contents, and make room for holiday baking and the fruits of a freezer cooking session.
Clean out the pantry. Finally, dry storage areas deserve a shake-down, too. Toss stale or expired food items, clean shelves and organize the survivors for efficient holiday cooking.
This Week's Holiday Prep Checklist
Start a freezer inventory. Keep track of your frozen assets with a freezer inventory. Update your list as you add holiday goodies, side dishes and freezer meals in the coming weeks.
Inventory the pantry. The year's best sales on staple foods lie just ahead. Know what you need--and make space to store it--with a pantry inventory form. Set aside foods you won't use to donate to holiday food drives. 
Give spices the sniff test. Soon holiday cooks will be reaching for the sage, cinnamon or nutmeg; how fresh are your spices? Give the spice rack a sniff test, and replace any stale or outdated spices before you cook.
Review recipes and make a shopping list. This week sees the year's lowest prices at the supermarket, as grocers battle for your holiday food dollar. Get ready to save: check holiday recipes and make a shopping list. Include all pantry or frozen items that you'll need for rest of the season, because these low prices won't last long!
Eat from the freezer and pantry this week. To free up funds for holiday food shopping, rely on stored food to feed the family this week. It's a two-fer: you'll reserve cash for food bargains and make space in food storage areas!
Stock up on seasonal staples. It's loss leader time at the supermarket, as merchants compete for your holiday food dollar. Take advantage of low prices and stock the pantry for holiday cooking ahead.
Stockpile freezer meals. Whether you do an at-home freezer cooking session, try the new meal assembly franchises or simply cook some extra pots of chili or spaghetti sauce this, stow away a few pre-cooked freezer meals. In December, you'll appreciate the convenience of having dinner ready to go on busy nights.
Check out cooking equipment. Do you have all the equipment you'll need to cook a holiday meal or complete holiday baking? Make a quick check of kitchen cupboards. If you need new equipment like a roaster, cookie sheets or a meat thermometer, add it to the shopping list. Kitchen equipment goes on sale soon!
Plan potluck meals. If you're part of family, church or social groups that hold Advent potluck dinners, be ready. A printable potluck meal planner will help organize and delegate appetizers, entrees and desserts for community dinners.