House & Holidays Plan Week 10: Cooking Space Week
October 31 - November 6, 2021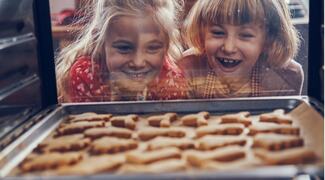 Thanksgiving is coming!  Time to take on the kitchen during Cooking Space Week in the House & Holidays Plan.
November's here, and it's time to clear the decks in the kitchen in the House and Holidays Plan: holiday meals ahead! In the next two weeks, we'll declutter, organize and clean cooking spaces and food storage areas. This week, it's the kitchen; we'll leave food storage spaces--refrigerator, freezer and pantry--for next week.
Holiday prep chores focus on the tastes of the season. After Halloween, we'll pare down the candy stash, putting items aside for holiday treats, baking or decor items. We'll dig out our holiday recipes, plan menus and baking, and do a tabletop check to prepare for the festivities.
This Week's Focus: Kitchen
Even for families who don't do much in the way of cooking, the holiday season brings new emphasis on the kitchen. Will you be preparing holiday meals, baking treats, or making kitchen gifts?
Time to clean up in the kitchen! Tackling holiday cooking is easier when the kitchen is clean, organized and clutter-free, so this week, we'll focus there. 
Sunday's extra hour of sleep gives us time for a quick home safety check. To round out this week, we'll begin preparing for Thanksgiving dinner by organizing recipes, planning menus and making a tabletop check. 
This Week's Household Checklist
Make a home preparedness check. An extra hour on Time Change Sunday gives a time bonus to check household safety and preparedness, as we prepare to move into colder weather. Make a preparedness check as you change the clocks, test smoke and carbon monoxide detectors, assess the household's stock of cold and flu supplies, and review the household emergency plan.

Get down and dirty with a kitchen clean-up! American Thanksgiving and Christmas dinners lie in our future and will put new emphasis on the household's kitchen. This week, we tackle kitchen clutter, cleaning and organization. Moving shelf by shelf, cupboard by cupboard, take on kitchen clutter this week. Using the STOP clutter method, bring food preparation workspaces to a lean, mean, efficient state. Once clutter is conquered, a kitchen clean-out is in order. Rout out the grime and corral the crumbs for a sparkling holiday kitchen. Don't worry about pantry, freezer or refrigerator just yet ... we'll turn to food storage areas next week.
This Week's Holiday Prep Checklist
Status Check! Review the progress of the House and Holidays Plan on the first day of the month. If you're falling behind, adjust goals to a more realistic level.

Recycle trick-or-treat candy for holiday baking or decor items.

Decorate for Thanksgiving. Remove Halloween decorations and replace them with Thanksgiving-themed items.

Organize holiday recipes. It's November ... do you know where your seasonal recipes are? Dig out the recipes you use during the holiday season, and add them to the holiday recipes planner. Thanksgiving Day is too busy to waste time hunting for the Green Bean Casserole recipe.

Plan Thanksgiving menus. If you're hosting the Thanksgiving feast, it's time to make a menu plan. Use a menu planner, and delegate, delegate, delegate!

Order the Thanksgiving turkey. Your meat market will thank you for not waiting until the last minute! 

Plan holiday baking. With recipes out, make a list of baked goodies you'll make for the holidays. The holiday baking planner form is a good place to start.

Buy containers for freezer meals, baked goods or kitchen gifts. Take stock of food storage bag and containers. Holiday-themed disposable containers and freezer bags are available now.

Make a tabletop check.  Inventory serving pieces, stemware, china and flatware; a printable tabletop inventory makes it quick. Check store flyers for sales. Will you be ready to set a pretty holiday table?

Bake any fruitcakes or Christmas cakes which require mellowing. Now's the time to bake the Christmas cakes! You'll have eight weeks to mellow them before the season.