House & Holidays Plan Week 9: Public Space Week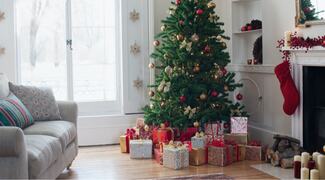 The living room takes center stage during Christmas celebrations.  This week, we'll bring order to the living room and look ahead to Halloween.
Halloween is coming ... and November lies ahead! Along with the trick-or-treaters comes a new pace to the season. Thanksgiving is on the horizon, so it's time to turn our attention to the public space in our home: the living room or great room.
In holiday prep, we'll prepare for Halloween celebrations. We'll complete Christmas cards and buy holiday stamps, and start saving mailing boxes so that we can recycle them to send gifts. 
This Week's Focus: Living Room or Public Space
The pace of the season is picking up, with Halloween's spooks and goblins at the door. Are you ready to welcome drop-in visitors?
This week, we're moving to the living room to declutter, deep-clean and organize the place where we entertain guests. Having this area clean and ready means your focus will be on your friends, not on your furniture.
In holiday prep, we'll prepare for Halloween and make more progress on holiday gifts. Completing our Christmas cards or letters gives a great feeling of readiness as the holiday approaches.
This Week's Household Checklist
Declutter, clean and organize the living room or public space. With the holidays hard upon us, your household's living room or public space will be on display. Prepare for family events and drop-in visitors! Remove all clutter from the living room using the STOP clutter method, then deep-clean the room. Move furniture pieces and vacuum beneath them, polish fine woods, and clean or vacuum draperies, window coverings or blinds.
Pare down living room decor. Once the living room is clean and free from clutter, take a minimalist's eye to the room 's decorations. Will your holiday decor shine, or will it compete with current decor items? Clear tabletops, shelves and corners for the holiday decorations to come.
This Week's Holiday Prep Checklist
Buy holiday stamps. Seasonal stamp designs will be available soon, so buy holiday stamps early for best selection. Ordering online from USPS.Com is easy and convenient, with delivery right to your mailbox!
Begin saving packaging materials. Recycling makes sense ... and cents. As catalog orders arrive, begin to stockpile mailing boxes and packaging material for re-use in December. Store them close to your wrap and mail center to speed holiday mailing chores.
Prepare to mail Christmas cards or letters. Christmas cards should be nearly finished and ready for mailing. ; Stamp envelopes and set them aside until it's time to mail them next month. Tip: leaving envelopes unsealed makes it easy to add a newsy post-script if the spirit moves.