House & Holidays Plan Week 8: Family Space Week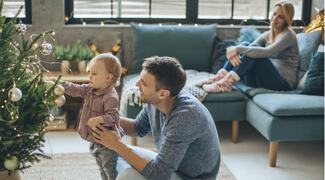 It's where the family gathers--and the heart of the home.  This week, we're cleaning, organizing and preparing the family room for an organized Christmas.
Christmas is a time for family, so center the season around a clean and organized family space. This week in the House and Holidays Plan, we take aim on the family room, playroom or family area. 
In holiday prep, the family room theme continues as we decorate for Halloween, review holiday movies and music, and craft a holiday housework plan.
Mailing deadline: mail overseas gifts this week!
This Week's Focus: Family Space
Find where the family gathers, and you've reached the center of any home. Where does your household come together to enjoy each day?
Whether it's a great room, a living room, family room or den, this week we'll tackle this central family space. We'll toss the clutter, deep-clean the room, and organize media, books and music to prepare for the holiday events ahead.
Holiday prep this week revolves around Halloween, which will arrive soon. The season is coming!
This Week's Household Checklist
Declutter, clean and organize the family room or family area. Family room, playroom, living room or den, this week's assignment is to dig in and declutter, deep-clean and organize the space where your family gathers on a daily basis.
Organize media and entertainment. While you're there, take aim on media and entertainment areas. Reunite video games and DVDs with their missing cases, and create an organized space for them to live when not in use. You'll make it easier to find holiday music, books and movies as the season progresses.
This Week's Holiday Prep Checklist
Decorate for Halloween. Add a few Halloween-specific items to your autumn decorating to bring a spooky shiver to life. After the 31st, they're easy to remove and replace with a Thanksgiving theme.
Costume check! Will the household's trick-or-treaters be ready? Complete Halloween costumes in time for the week's parties and events.
Start a new Halloween tradition. Ready to join the neighborhood fun? Use our free printables to start a Halloween BOO tradition in your neighborhood. Spread the BOO joy!
Will you greet Trick-or-Treaters at the door next week? Stock up on Halloween candy now, before it's sold out. (Note: if you're planning to make Thanksgiving Blessings Mix next month, add a bag of chocolate kisses in seasonal colors, and some candy corn to your list. In recent years, many stores have removed these treats after Halloween due to Christmas creep, so stock up now!)
Tune time: make a music check. How's your stash of holiday music? If the sounds of the season move you, review the family's collection of Christmas music. Note favorites on a holiday favorites planner page.
Movie review: check the family's holiday movie library. Whether it's A Christmas Story or It's a Wonderful Life, review the family's holiday movies. Is it the year to add new titles to the gift list? Get ready for December popcorn nights!
Start amaryllis bulbs. Fresh flowers at the holidays are a fragrant--and frugal--gift. If you'll be giving holiday plants, start amaryllis bulbs now; they'll need eight weeks to be ready.
Mail overseas gift packages. International mailing can take weeks ... or more. If your gift list includes packages to be sent overseas, mailing deadlines loom. Be sure to mail all overseas parcels early, so they'll arrive by the holiday.
Create a holiday housework plan. Many hands make light work and never more than at the holidays. Negotiate a holiday housework plan, assign jobs and work together to keep family spaces clean. Print a chore checklist to remind family members of assigned jobs. Post it publicly to encourage accountability for designated chores.
Finish working on Christmas cards. How are Christmas cards and letters coming along? Finish addressing, signing and assembling Christmas cards in the next two weeks.