House & Holidays Plan Week 7: Bedding and Bath Week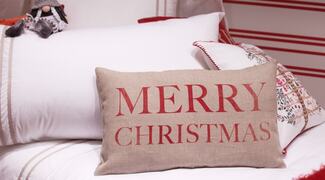 Linen closets and bathrooms can be choke points during the holidays.  Organize them for Christmas, this week in the House & Holidays Plan.
If the children are to be nestled, all snug in their beds, it's time to get things straight in the linen closet! This week in the  House and Holidays Plan, we'll focus on linen closet and bathrooms as we get organized for Christmas.
We'll declutter, organize and clean these areas, then do a quick linen check. Will we have enough sheets and towels? What's the state of the tablecloth? Is the household stocked for winter colds and holiday guests?
With the deadline for mailing overseas gifts at hand, we'll get ready to wrap with a wrap and mail center. An account at usps.com lets us print mailing labels, buy postage and arrange for carrier pickup ... online!
This Week's Focus: Linen Closet and Bathrooms
The day before Thanksgiving is no time to discover that your good tablecloth is shredded and stained. This week, we're diving into linen storage areas and tackling family bathrooms as we prepare for Christmas. We'll check linens and clean and organize bathroom areas so we're prepared for holiday primping ... and guests!
In holiday prep, we'll think ahead to what we need to wrap and ship gifts, and continue gift shopping.
This Week's Household Checklist
Into the bathrooms to declutter, clean and organize! From the master bathroom to the small half-bath off the hall, this is the week to focus on the household's "facilities". Clear away clutter in each bathroom, then deep-clean fixtures, floors and walls. Organize personal care storage and prepare for entertaining and guests.
Light into the linen closet. Linen storage areas can become a catch-all space, so rout them out this week. Return misplaced items to their homes, then organize sheets, blankets and towels to make them easy to find in busy times.
This Week's Holiday Prep Checklist
Make a pre-holiday linen check. As you declutter and organize the linen closet, make a quick linen check. If you need sheets, towels, or blankets, add them to the shopping list now.
Start stocking up on bathroom basics. Running out of toilet tissue isn't a major problem--unless it happens during a holiday party. Before the season begins, stock bathrooms with ample supplies to ward off embarrassment. 
Set up a holiday wrap and mail center. Use an empty closet, corner or an under-bed organizer to gather gift wrap, ribbons, bags, tags and supplies. You'll speed gift wrapping and parcel mailing with supplies all in one place.
Simplify mailing chores with an account from USPS.Com. Power to the Postal Service! A free account with USPS.Com makes it easy to buy postage, print labels or arrange for carrier pickup. Better, the USPS will deliver free flat rate mailing boxes to your mailbox, then collect your labeled packages at the door under the Click-n-Ship program. No more waiting in line!
Buy, wrap and package overseas gifts for mailing. Next week's mailing deadline means that overseas gifts must be bought, wrapped and packaged for mailing this week. Check gift lists and complete any overseas gifts.
Begin shopping holiday bazaars--or swaps. It's bazaar season! Service clubs, church groups and school organizations offer great holiday savings--and a lot of fun--at holiday bazaars. Bazaar season starts in early October; add a few events to your calendar to shop for gifts and decorations. Another frugal source for gifts and decor: holiday swaps. Check your favorite online community for active swaps, where members exchange like items for holiday giving.
Continue working on Christmas cards. Divide the Christmas card list into five sections. Complete one section this week. Goal: to be finished writing, signing and addressing cards by November 15.
---