House & Holidays Plan Week 5: Guest Room Week
September 26 - October 2, 2021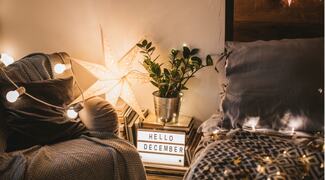 Prepare for holiday hospitality this week, in the House & Holidays Plan:  it's Guest Room Week!
Hospitality is a core value of the Christmas holiday season; time to plan for guests! 
This week in the House and Holidays Plan, we'll "think hospitality" as we prepare for house guests and focus on the guest room.
No guest room?  Take aim on the multi-function area that houses sleepover guests; otherwise, it's another bonus room week!
Our holiday prep focus turns to decor, as we begin planning seasonal decorations.   A decor declutter clears surfaces in time to decorate for autumn.  
Finally, we'll schedule houseguests and build a little "pamper basket" to welcome them, as we begin writing Christmas cards or signing holiday letters.
This Week's Focus: Guest Room or Bonus Room
Making ready for guests this year? Whether your home includes a designated guest room, or you bed down visitors in a multi-use area, it's time to prepare for holiday houseguests.
This week, we'll check on all the items we need to extend hospitality, and clean and organize any areas devoted to visitors. As we go, we'll consider what makes a welcoming home, and find ways to make our guests feel cherished and comfortable.
In holiday prep, we'll begin thinking about holiday decorations, make a first-of-the-month status check, and begin decorating for Autumn. Try these resources to jumpstart your holiday home:
This Week's Household Checklist
Declutter, clean and organize guest areas. Whether your household has a dedicated guest room or a simple fold-out sofabed, declutter, organize and clean the area you use to host guests.
No guest room or guest space? Take a bonus week, tackling another area of the household or catching up on earlier assignments.
This Week's Holiday Prep Checklist
Status Check! Review the progress of the House and Holidays Plan on the first day of the month. If you're falling behind, adjust goals to a more realistic level.
Begin planning holiday decorating. Check magazines, library books and the Web for decor inspiration. Use a printable room-by-room decor planner to coordinate decor plans.
Inventory holiday decorations. Make a quick inspection and determine what you have to work with.  Will you need to replace or upgrade decor items this year? Make a note on the decor inventory form.
Declutter before you decorate for autumn. Do your visual field a favor with a quick decor declutter. A clean sweep now makes holiday decorations all the more impressive!
Decorate for autumn. Choose "generic" decor items.  Nearer to Halloween, add a few Halloween items which can be removed easily after the holiday. Come November 1, swap them out for Thanksgiving decorations.
Schedule houseguest stays. Grab calendars and check in with family about travel plans. Will you host houseguests this year?
Make a guest room "pamper basket". Guests feel welcomed when the guest room or guest area boasts a simple basket of toiletries and personal care supplies.  Add a coffeemaker and beverage supplies for a "bed and breakfast" touch.
Continue working on Christmas cards. Divide the Christmas card listinto five sections. Complete one section this week.  Goal:  to be finished writing, signing and addressing cards by November 15.