Holiday Grand Plan or House and Holidays Plan?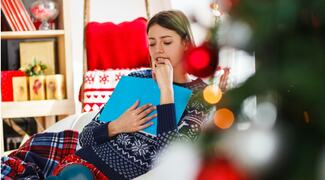 What is the difference between the Holiday Grand Plan and the House and Holidays Plan ... and which one should I follow?
This question has been asked about our Christmas organizing plans quite a bit in recent days. Time to take a stab at answering it.
Right off the bat, I'd say there's no "should" about which plan to follow. Which plan, no plan, custom plan--it's all up to your personal choice. But I did want to write about what the differences are, so that each one of us can make the right choice for ourselves.
Unlike the Christmas Countdown, which covers only holiday prep chores, both the HHP and the HGP are ambitious, all-autumn Christmas organizing plans. Both of them seek to move through the house on a weekly basis, with decluttering, deep-cleaning and organizing assignments designed to bring the whole house to a ready state by the time December rolls around.
HISTORY OF THE HOLIDAY GRAND PLAN
As many of you know, the Holiday Grand Plan is the Web's oldest Christmas organizing plan. It grew out of a very early online "get organized" community on the old Prodigy service: Homelife - Get O.
In 1993, our group worked together to create the Cleaning Grand Plan; but most of the authoring was done by my good friend Katie Leckey. When autumn rolled around, Katie added a holiday prep component to the Cleaning Grand Plan, and that became the HGP we know today.
This history explains why there are a few puzzlers when it comes to the HGP. For instance, the front door/entryway portion comes at the very start of the plan, and many people noted that, "Hey--my front porch needs cleaning AGAIN" by the time they made it to December.
Other objections are that this plan presumes an average suburban home, and doesn't really encompass alternate living arrangements very well. Still other people wondered, "Why on EARTH are we spending two weeks cleaning the attic and garage right in the middle of the holiday season?"
Simply put, the HGP grew out of another plan, and wasn't designed just for the holiday pre-season.
BEHIND THE HOUSE & HOLIDAYS PLAN
By contrast, that's what I sat down to do when I wrote the House and Holidays Plan: create a more realistic cleaning focus and flow for the pre-holiday months.
I also wanted to break down the plan into "areas", rather than "rooms". Some weeks, like Bed and Bath week, the "area" may be spread across two or more rooms in the house--but the idea is that assignments are focused on a single function, rather than a geographic area. By thinking about ALL bathrooms at the same time, you'll find it more efficient to deal with the chores on the list.
So, rather than a pretty rigid "front door to back door" approach, I went for something of a spiral. The plan starts with planning, creative areas, and the master bedroom--all "personal" spaces. Tackling them first gives the planner a place to go to create, relax and rejuvenate as she works the rest of the plan.
Then the HHP moves into family spaces, such as kids' rooms, guest rooms or the family room, and only then begins to take on more public areas ... and we END with the entryway/front-door area. The idea is to start with yourself, move on to the family, and only then tackle those areas and functions that will see guests, visitors or entertaining.
The second goal I had with the HHP was a more realistic and natural pace to holiday planning. On the HGP, there are a LOT of pre-season assignments dumped in the first two weeks, and for many of us, that's just too early--not to mention that the first two weeks of both plans overlap summer's end, Labor Day and back-to-school. On the HGP, we had lots of second-week dropouts as people decided that this was just too hard.
Instead, I tried to space HHP holiday prep assignments over many weeks, letting people move into seasonal planning more gradually.
So we START a Christmas planner, but we don't print off the world in a day or two. We BEGIN making gift lists, but we won't complete them for several weeks. The idea is to have a lot more wiggle room for busy weeks, vacations or simple personal "I can't think about this yet!" preferences.
Finally, I looked at what a lot of people do, which is combine a longer-term plan like HHP and HGP, with the Countdown, once it rolls in at the end of October. Knowing that many of us fall off the rails on the longer plan, then catch up with the Countdown, I tried to make sure that there was an easy transition from where we are on HHP to where we start with the Countdown, to account for this.
THE CHOICE IS YOURS!
So, which one is right for you? It's all a matter of your own preference--but since some of you have asked, I hope I've answered questions about the "whys" behind both plans.
--Cynthia Ewer