It's A Wrap: Set Up A Gift Wrap And Mail Center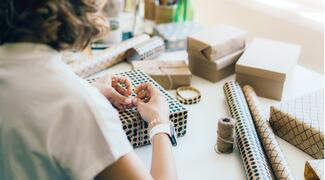 Gift-wrapping chores got you down? Speed Santa's way with an action center for wrapping Christmas gifts and preparing them for mailing. Get organized with a free printable checklist!
Wrapping gifts for the holidays? Repeat after me: "This year, I won't be wrapping gifts at midnight on Christmas Eve!"
If there's a single most-underestimated holiday chore, it's gift wrapping. Supplies lie scattered throughout the house, while space and privacy are hard to come by. Translation: late-night Christmas Eve wrapping sessions, grumbling your way through the job.
Not this year! To lick the wrapping problem at the outset, set up a wrap and mail activity center: a dedicated space for wrapping gifts and preparing packages for mailing. With workspace, tools and supplies at hand, it's easy to wrap as you go—and enjoy the task, without grump, grumble or hurry.
Having all gift wrap, tools and supplies in one place speeds gift wrapping and makes mailing easy. Follow these steps to set up a Gift Wrap and Mail Center:
Shop At Home, First
First, find last year's gift wrap. Did you stock up on half-price wrap, bows and ribbons in last January's post-holiday sales? Wonderful--but you lose all your Good Consumer Brownie Points if you can't find the booty! Dig it all out from boxes, closets, drawers or attic.
Take Inventory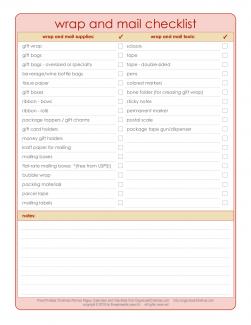 Time to see what you have--and what you need. Use a Gift Wrap and Mail Checklist to evaluate your existing stockpile. Will you need to refresh stocks of gift wrap, gift bags, ribbons or bows?
Tool check! Make sure you have scissors and pens. Like cellophane tape, these gift wrapping necessities often go astray during wrapping season, so lay in a good supply before you begin.
Include mailing supplies on your list, especially postal-approved parcel sealing tape. Masking tape, twine and cellophane tape can become caught in parcel handling machinery, delaying your gifts and goodies or even damaging them. Don't run the risk to save a few pennies.
Make a "to buy" list and add items to the shopping list. Hint: double up on the cellophane tape. There are never enough rolls of tape on hand for holiday projects!
Select The Right Spot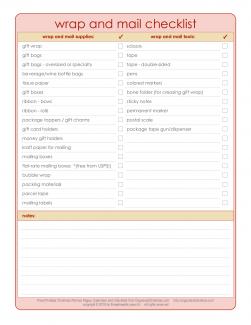 List made, find a place for your wrap and mail activity center. Look for a room of your own with a lock upon the door: a bedroom, office, utility room or large bathroom that will allow you to wrap in peace and privacy. 
Good lighting and a comfortable work surface are a must, so consider placing a craft table near a window. Those in small homes can make use of a bed area, if they place a large sheet of poster board or cardboard on the bed before hauling out the supplies.
Access to a computer and printer will help speed the process of mailing gifts. Look for a postal scale to make best use of the mailing tools offered by the United States Postal Service. Using their Click-N-Ship. service, you'll be able to buy postage, print mailing labels and arrange for carrier pickup from the comfort of home. No more long holiday lines at the Post Office!
Scout Out Storage Options
Once you've chosen a location, be creative to find storage for tools and supplies. Stand rolls of gift wrap on end in a large carton, confine bows to grocery sacks, and tuck the box into a corner of a closet. 
A paper clip on each end of rolled gift wrap keep the paper from unwinding when stored. Supermarket "chip clips" are a handy way to group sheets of tissue paper; hang clips on a hook to grab the right color tissue anytime!
Under-bed storage works for the wrap and mail center, too, so long as you corral the supplies in a long, low storage box. Commercial gift wrap organizers are available and can be a wise purchase. Long, low molded plastic boxes with storage for bows and gift cards slide easily under beds or on a linen closet shelf. An over-the-door shoe bag will keep scissors, bows, tags and ribbons visible as you work.
Remember To Recycle
To cut the cost of gift wrapping and mailing gifts--and give a welcome Christmas gift to Mother Earth--make room to recycle! 
As the season progresses, stockpile any catalog or mailing boxes you receive for re-use in the wrap and mail center. Recycling mailing boxes, bubble wrap and plastic peanuts makes environmental sense . . . and saves cents!
A well-stocked Wrap and Mail Center smoothes ragged nerves as the season approaches. Establish yours today . . . to get ready for Christmas!