No More UFOs! Get-Em-Done Strategies for Handmade Holiday Gifts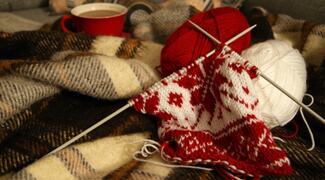 Scanning a list of handmade craft gifts is something like reading a cookbook: it makes you hungry! 
Whether you wander the crafts store, settle in at the library's craft bookshelf, or browse online, visions of bright and beautiful gifts follow one after the other. Will this be the year you give hand-crafted gifts ... to everyone? 
Give in to the impulse to overload on holiday crafts projects, and you're likely to find yourself drowning in UFOs: Un-Finished Objects. Try these ideas to keep your holiday crafting within bounds--and budget and timeframe, too.
Apply the Rule of Four
This simple strategy will cut to the crafting chase ... and ground you in the midst of crafting-magazine intoxication.
Go to the location where you store unfinished crafts projects. Count the number of UFOs: Un-Finished Objects. Are there more than four, or is any unfinished work over four years old? 
If so, apply the Rule of Four. No new crafts this year--finish the pending projects before you buy one more hank of floss or sack of sequins!
Think Theme
Lovely as it is to be a crafting grasshopper, pick a single crafting theme when you plan each season's holiday gifts. 
Will this be the year for knitted scarves? If so, make them in multiples. The project will go faster with practice, unused yarn from one project can be repurposed to the next, and you'll only need to invest in a single set of tools.
Schedule regular crafting time
The quickest way to create a UFO (Un-Finished Object)? Forget to add crafting time to each week's activities. 
Sure, the glow of creativity burns bright in the crafts store, but that light will go out for your project unless you set aside time to tend it. Without a scheduled time to work on handmade gifts, it's too easy to sweep them aside in the bustle of daily life.
Work daily or weekly crafting time into your schedule to see crafted gifts through to completion.
Go with the flow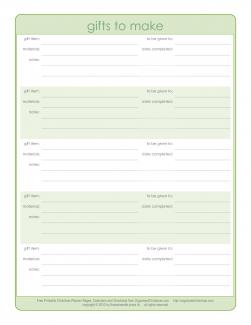 Many crafts lend themselves well to small bits of time--so where you can, pack the crafts bag and take the current project along with you. 
Knitting, needlework and even scrapbook doodling or journaling can be done while waiting for appointments or supervising children's play in the park.
Track progress with a "Gifts To Make" planner
The simplest way to keep track of gifts-in-progress? Make and keep a Gifts To Make planner. Reviewed weekly, it'll remind you of planned homemade gifts. Get crafting!