Master Gift List: A Holiday Shopper's Best Friend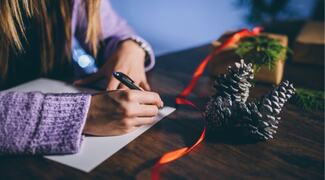 We've taken polls, and it happens every time: at Christmas, gift-giving leads the list of holiday stressors.  Take charge of gifting decisions with a master gift list: the "list of lists" to organize holiday giving--and supercharge your gift-giving flair.
Every family has one: a gift-giver of extraordinary flair and creativity. Year after year, this paragon finds just the right gift, large or small, for every friend and relation, and all without breaking the bank. 
Her "just because" offerings are tiny jewels, she's hip to the latest teen trends—and she never, ever hears the double-barbed response, "Oh, you shouldn't have--you really shouldn't have!"
What's her secret? A master gift list.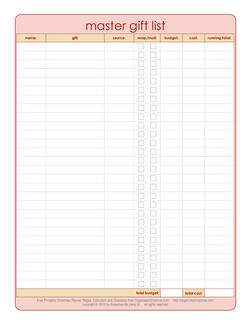 More than a simple "name-to-present" checklist, a Master Gift List is a power-giver's tool of choice. It's the place to record gift suggestions, track shopping, wrapping and shipping, and find inspiration for tough-to-buy-for loved ones. Started well before the holiday season, it'll buy precious time during December's busy days.
The Master Gift List will be the start point for Gifts and Giving as we get ready for Christmas, so the time to begin one is now!
Place the Master Gift List directly behind the Gifts divider in your Christmas planner for easy reference.  How will you use a Master Gift List?
Grab gift ideas
If there's a single trait that sets apart a power gift-giver, it's attentiveness. Inspired gift ideas don't just alight from thin air, but spring from close attention to the needs and preferences of loved ones. That's why the Master Gift List's first function is to record fleeting gift ideas as they occur to you—whatever the time of year. 
Here's an example. Say you visit your brother and sister-in-law for a family cookout. You notice that Sis is trying to toss the salad with a mismatched pair of mixing spoons. Gift idea! 
In the corner, a teen nephew hunches in full thrall to a hand-held video game. Ditto!
When you return home, make a quick note that "salad servers" might be a welcome gift for the family, and write "video game magazine subscription" next to your nephew's name. 
Entrusted to the Master Gift List, those summer observations will make shopping simple come December.
Take charge of shopping
Rely on the Shopping Mall Method of gift buying, and your budget will rise like a helium-filled balloon. Without the guidance of a good gift list, you'll drift from store to store, buying what the eye sees, not what the family needs. At day's end, you're likely to have multiple gifts for some recipients, nothing for others, and a flattened wallet to match your flattened feet.
Shop with a list, and take control! Rely on the Master Gift List as you shop to resist retailing blandishments and put purchasing power back in your hands. Keep a running tally of gift purchases to protect the budget against seasonal temptation, and use the list to organize holiday shopping trips efficiently. Armed with a Master Gift List, you'll save money, time and energy at a busy time of year.
The Master Gift List. Don't leave home without it!
Track gift-giving progress
Buying is only the beginning; holiday gifts must still be wrapped, packed and shipped. Who needs the stress of standing in line for overnight shipping on Christmas Eve?
Add simple checkboxes for "bought", "wrapped", and "delivered"; they'll let you see at a glance where you lie along the trail to the Christmas tree. Check the list regularly, and you'll have a visual reminder to get gifts delivered in a timely way.
Lessons of Christmas Past
Finally, there's no such thing as a "finished" gift list. Even at season's end, the Master Gift List remains a treasure trove for Christmases to come.  
Tuck the completed Master Gift List away behind the Christmas Past divider in your Christmas planner.  As you make next year's lists, refer to it to avoid duplicating gifts, to recall gift ideas and to prevent violating the "unwritten rules" by veering from modest to extravagant gifts from year to year.