Christmas Chaos? Make A Plan For Holiday Housework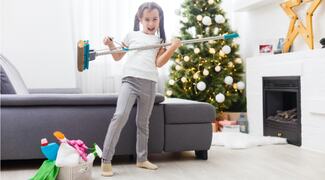 Stop one source of holiday stress at the outset, with a simple housework plan. Keep life flowing smoothly at home, during the holiday season.
For many families, the Christmas season causes more than usual chaos on the home front. 
Do you shove stacks of mail and magazines into dark closets to hide them from drop-in visitors? Does your dinnertime schedule fall off the rails when faced with multiple evening rehearsals? Does Mount Washmore raise itself to new heights in the laundry room, only to be scaled in panic an hour before the Nativity play?
Forewarned is forearmed! A simple housework plan--and family cooperation--will keep things humming at home, holiday or not.  Coupled with accountability in the form of a chore checklist, a housework plan is the secret to holiday sanity, even during the busiest days of December.
Create a Holiday Housework Plan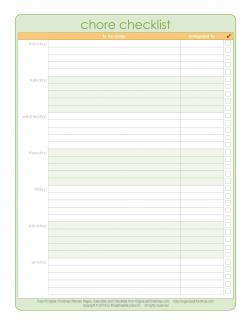 Sit down with the Christmas planner notebook and your favorite hot beverage, and outline the rock-bottom, must-do chores that keep the household running. 
Dishes must be done and the kitchen tidied fairly regularly. Food must be stockpiled or purchased. Laundry systems must be adequate to the unusual demands on clothing during the season. Public areas of the house must meet minimum health and safety standards for drop-in visitors.
List only the bare minimum of necessary tasks. Forget about making beds. Bathrooms open to guests should receive some attention, but you can slide on the kids' bath or the tub in the master suite. 
Don't worry about windows or walls or the utility room. Just list what you must do to keep the family fed, dressed, and ready for company.
Divide your list into daily jobs and weekly ones. A sample list might look like this:
Daily:
Clean kitchen after dinner
Run 1 load of laundry
Tidy up living room
Weekly:
Vacuum entry and living room
Sweep kitchen and pantry areas
Shop for groceries
Clean guest bath
Change linens and towels
Next step: delegate, delegate, delegate! Enroll all family members as Holiday Housework Helpers. Call upon school-aged children for evening kitchen clean up or tidying chores. Schedule a weekend family work time for weekly chores.
Make out a simple chore checklist, or print a Holiday Chore Checklist from the Christmas printables library. Mark names next to each job, and post the list in a public place for accountability.
Many hands make light work! If everyone pulls together on the Holiday Housework Plan, everyone will reap the benefit of an organized home during the height of the season.