Low-Cost, No-Cost Ways To Celebrate Christmas with Kids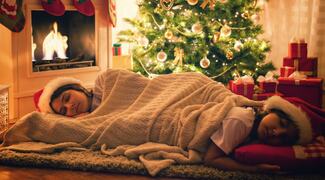 Celebrate small and safe, with these no-cost, low-cost Christmas ideas for kids.
Cutting costs at Christmas doesn't mean celebrating like Scrooge. It's not about what you buy--it's about what you do! 
Putting "celebration" at the center of the season--and taking the focus off of gifts and giving--can be the key to happy holidays that don't break the bank.
Better, when it comes to kids and Christmas, cheap is good! Simple, inexpensive family activities can be as meaningful as pricey Nutcracker tickets--and no need for scratchy dresses or dress-up suits. 
Try these no-cost, low-cost ways to celebrate the holiday season with kids:
Christmas Camp-Out: One evening, roll out sleeping bags in the living room, and hold a family camp-out underneath the Christmas tree. Don't forget the hot chocolate and carols around the fireplace!

Lights Night: Put younger children to bed as usual, but wake them an hour later. Tumble the family into the car pajamas and all, and drive out to see the Christmas lights. Pack hot drinks and popcorn for a surprise treat. 

Shopping Date: To encourage children to give, make a one-on-one shopping date with each child. Together with a parent, help the child shop for gifts for other family members. Be sure to stop for a sweet treat. Make memories!

Pet Patrol: Visit the local humane society or animal shelter, and volunteer to walk homeless pets during the season. Fresh air and family time are a bonus!

Candle-Lit Dinner: Make an everyday dinner special by dining by candlelight. Share stories around the table as you enjoy the glow.

Glowing Toes: Share a mother-daughter moment: a girls-only pedicure party, complete with Rudolph-red nail polish!

Library Lane: Visit the local library and check out books about Christmas. Read one book each night in December as a special holiday countdown.

Cracker Crafts: Save enough toilet-tissue tubes to supply the family. Create Christmas crackers by stuffing tubes with tiny candies, toys and treats. Wrap crackers, and use them as place cards for holiday dinners.