Posted by Cynthia Ewer on September 12, 2007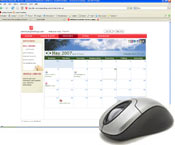 American Greetings' free online calendar sends birthday and event reminders, directly to your email or cell phone.
The online calendar even sends you eCard suggestions, for remembering special people on special days.
Keep track of important events, coordinate schedules and express your personal style - all with this free online calendar.