Holiday Grand Plan Week 15: Finish-Up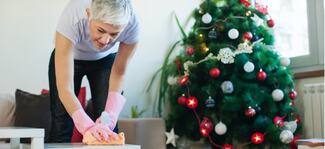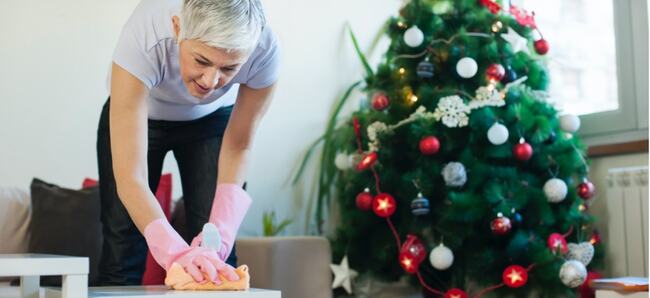 Moving closer to the celebration, it's time to tie up loose ends.  It's Finish-Up Week at the Holiday Grand Plan!
We're finished ... maybe. That's why Week Fifteen, Finish-Up Week, is devoted to finish-up tasks at the Holiday Grand Plan.
It's now or never, and the season is here. In the house, we'll tend to any un-done chores, bonus areas, or final preparations.
In holiday prep, the season enters full swing this week. We'll finish mailing packages and cards, and prepare for the final stretch to the holiday.
HOLIDAY PREP
Mail rest of packages and all cards.
CLEANING/ORGANIZING AREA: FINISH-UP WEEK
This week's assignment, from Katie Leckey's Cleaning Grand Plan:
Take this final week to budget for the things you noted you needed to have done: new wallpaper, carpet re-stretching.

What about the outside?? It is a good time to really clean well the patio furniture and to sweep off the patio and trim the plants. Any weeding needing to be done? Section off the outside yard just as you would do the inside of the house and get to it. You can enjoy your home inside and out! )

Learn to delegate! Talk with your family and tell them how hard you have worked. (So what if they really do not understand.) Tell them how you need to have their help.

Be specific! Delegate specific chores and write them down on cards . No Nintendo, TV, or playing with friends till that is done. No Ifs ands or buts about it!

It takes 21 days to make something a habit-- for you and everyone else in the family--so stick to it! Keep on them.

Work on relationships now. You have been so busy in the house! Plan a lunch alone with your son. Take your daughter alone to a movie! Buy a new sexy piece of lingerie and treat you and Hubby!

Have fun now that you have your home all organized and clean!
---