Holiday Grand Plan Week 14: Holiday Decor
November 29-December 6, 2020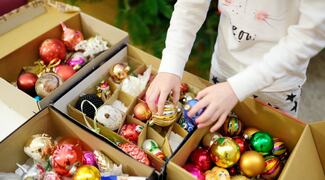 Holiday decorating ahead!  This week, we're organizing holiday decorations in the Holiday Grand Plan.  Make it an organized Christmas!
Decor takes center stage this week in the Holiday Grand Plan!
The holiday season is here, so we'll bring it home this week, organizing holiday decorations and decor storage.
In holiday prep, the Christmas tree makes an appearance as we complete holiday decorating. Are gift packages ready for mailing? It's time!
HOLIDAY PREP
Decorate house and yard for holidays.

Have a craft day for children.

Prepare all packages for mailing and mail this week and next. Mail all overseas cards.

Plan a caroling evening or other social family evenings.

Procure and water the Christmas tree!

Order turkey.

Are we having the company Christmas party? See checklist.

Read The Polar Express aloud to kids.
CLEANING/ORGANIZING AREA: HOLIDAY DECORATIONS AND STORAGE
This week's assignment, from Katie Leckey's Cleaning Grand Plan:
As I recall, we had only to find and sort those holiday decorations. This covered ALL holidays. and all things pertinent to those holidays,too. (like the red/white/blue centerpiece for the 4th, the Thanksgiving candles and wreaths, and centerpieces, etc.) I believe the idea was to group these all together in ONE box if possible to be added to the storage area (WHO HAS THE ROOM?).

This is to free up space in the house and kitchen cabinets by removing these non-essential but occasionally needed holiday items. The "storage" reminder at the end of this week's title was to give some people more time on that very difficult area in our homes. After the previous weeks of the grandplan, the storage areas are FULL of stuff that must NOW BE FACED !!! Are we going to hang onto our "junk" or clear the clutter??? Only you know yourself. so what'll it be??

You might as well check on all the other decorations while you are in the process or storing the Christmas decorations. Mark those boxes well and make a list of what you want to replace. You might still be able to find those after Christmas bargains for those types of things.
---