Holiday Grand Plan Week 9: Pantry/Closets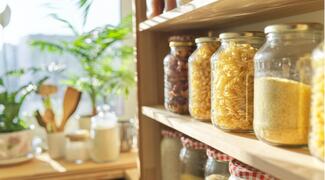 Stocks of stored foodstuffs and supplies come to the fore during the holiday season.  This week, we'll clean and organize pantry and closets for an organized Christmas.
Pantry Week sees us move into food storage area, this week at the Holiday Grand Plan!
This week, we focus on food storage, the pantry and any additional closets. Taking time to declutter, deep-clean and organize these storage areas will pay off when holiday baking begins.
Holiday prep chores this week see us begin to address Christmas cards, continue to work on holiday gifts, and start thinking about Thanksgiving dinner.
HOLIDAY PREP
Make one batch of Holiday Goodies.

Make one extra meal for freezer again labeled HOLIDAY MEAL.

Buy two canned food items from menus (get 2 of each item, one to use and one to donate to food drive).

Buy 1/8th of TO BUY gifts. Save all receipts, note return policy before buying. Ask for gift boxes.

Wrap and label packages. If needing to ship, get some shipping boxes now and store packages in them.

Work at least 1 hour a day on homemade gifts.

Start addressing Christmas cards and writing Christmas letter. Involve the whole family. Do not seal cards yet, keep them in a box in alphabetical order, as you think of things that you want to say to them pull out the card and add a note.

Find family photo suitable for inclusion with Christmas card.

Send invitations for Thanksgiving.

Prepare for special needs-extra beds, babies?

Buy extra batteries (check gifts).

Order turkey.
CLEANING/ORGANIZING AREA: PANTRY AND CLOSETS
This week's assignment, from Katie Leckey's Cleaning Grand Plan:
Pantry: Use same method as for the cabinets. don't forget to wipe down while empty. Try to combine duplicate boxes of things to throw out that which you haven't and probably won't use.

Get Rid Of:

Old, currently unused items
Cans & Bottles of food over 6 months old unless there is a later expiration date
Old cracker/cookie boxes probably stale
Pans & pots that you don't use, have duplicates of, are in horrible shape, etc.
Extra serving dishes (store them elsewhere unless you have lots of room) until needed. Donate if you have not used them in the past six months
---