Holiday Grand Plan Week 3: Entryway/Foyer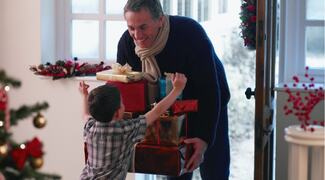 Open the door to Christmas from a clean and organized home, with this week's assignments for the Holiday Grand Plan. 
Welcome to Week Three of the Holiday Grand Plan!
This week, we tackle deep-cleaning and decluttering our entryway or foyer, to create a welcoming entrance to the home for holiday guests.
Holiday prep chores focus on baking and kitchen as we plan our baked goodies and start stocking up for holiday meals. More printable forms help our Holiday Grand Plan notebooks grow.
Ready? Let's get organized with Entry/Foyer Week at the Holiday Grand Plan.
HOLIDAY PREP
Make one batch of Holiday Goodies.

Make one extra meal for freezer again labeled HOLIDAY MEAL.

Buy two canned food items from Menus (get 2 of each item, one to use and one to donate to food drive).

Keep 2 boxes in a pantry area or storage place to put these in so that they are not used in everyday cooking - make sure to label them so that when food drives start your holiday supply stays intact and the food drive gets the food purchased for it.

Buy all supplies for homemade gifts. Package each project with directions and other information in zipper food storage bag and place in a basket or box in craft/sewing area.

Buy film, camera batteries, blank videotapes. Hide them; write yourself a note.
CLEANING/ORGANIZING AREA: ENTRYWAY/FOYER 
This week's assignment, from Katie Leckey's Cleaning Grand Plan:
Use the basic remove/clean/replace policy for those items which are wall-hung.

Consider how the area looks when a visitor enters your home. Again if it doesn't belong there, remove it!

If you have a chair or rack that welcomes clutter, consider moving it until everyone breaks the habit of just dropping everything off in the foyer.

The next time you enter the front door after being away a few hours, look around and sniff around just like you were in a strange house. Our homes can develop "houseatosis". There are a great many air freshener products and potpourri assortments on the market today, use one if you need it!!

Don't forget to clean out the umbrella stand, if you have one. If you don't, do you need one?

Do you have a rug or maybe carpeting in this area? Do a thorough job of vacuuming it. you'll be pleased.

Do you have a window in your front door, or "side lights" which could use bit of glass cleaner?

Don't forget to thoroughly dust/wash front door itself, and also the baseboards in the area.

Plan a place for everything which needs to be kept near the front door and keep it there! Everything else goes!

Now, do you need to go back and spend time on last week's project? If not, could you choose another declutter project that would enhance the beauty of your home?

Choose something close to the entry or living room to help give that feeling of flow between organized rooms.

Like smiles and yawns, organization is contagious!
---