Christmas Countdown Day 32: Prepare for Thanksgiving
Thanksgiving Day is on the horizon! Today in the Christmas Countdown, it's time to prepare for the feast.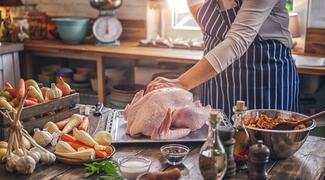 In the USA, we're preparing for Thanksgiving--and in 2021, we are thankful to be further from the COVID restrictions of last year.
But we will celebrate ... and we will be thankful.  Singly or in twos, gathered at a distance or via technology, we will reflect on our blessings and celebrate our abundance.
Happy Thanksgiving, America ... and the world.  
To Do Today
Prepare for Thanksgiving
Today, get help online with all your Thanksgiving turkey problems!
Whether you need to know about thawing times, stuffing recommendations, cooking methods or problem solving, try these resources for holiday cooking questions: