Christmas Countdown Day 31: Inventory Holiday Decorations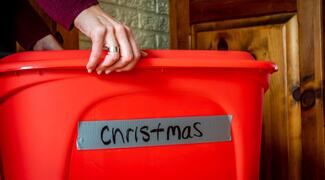 It's a race! Watching our neighborhood over the past weekend, I had to smile. First one, then three, then an even dozen of our neighbors mounted their entries for the year's holiday light show.
Fads and fashions come and go. Last year, a few "early adopters" outlined their houses with the newest lighting fad, strings of light that race along the trim and roofline--and the year also saw an explosion of giant inflatable snowmen, Santas and reindeer on neighborhood front lawns. 
What will be this year's holiday decor must-have?
One family plants red plastic poinsettias over their landscape lights for a unique touch. Another household leaves the job up to professionals--creating so much light outside that one can read a book by them! 
Being a great believer in the art of the understatement, I'm left behind in the dust, adding only small window candlesticks and a front-door wreath to the blaze of holiday glory.
On this weekend, our neighborhood resembles just that: a neighborhood. Neighbors call from lawn to lawn as lights come out to be tested, hung and lit. Teenagers scramble up and down ladders. Children run about, frisky with cool weather and the festival mood. 
Each evening, groups of family members survey the job from the center of the street. Enough? Too much? Just right? Our normally quiet street comes alive with the holiday feeling.
Amazing, isn't it, what can happen when you put a little light into your life?
To Do Today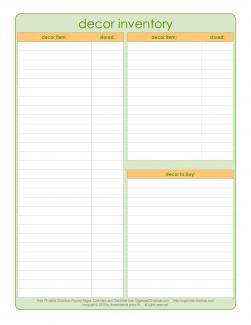 Inventory holiday decorations
Up into the attic. Down into the basement. Around the corner into the storage shed. What will you find when you unearth your holiday decorations?
If you're like most of us, you're going to find a mess. Bulging boxes, bags and stacks. Tangled strands of lights. Tattered tinsel garlands. Ornaments packed willy-nilly. Fresh new bags from after-Christmas sales containing duplicates of the items you already have. It's as if you left a joke present to yourself from Christmas Past. Surprise!
This year, we'll do better. When we put away Christmas, we'll take time to protect, preserve and organize holiday decor items. We'll tuck special items away with care and thought, breaking the chain of holiday disorganization.
For now? It's enough to know what you have. Today's assignment, to inspect and inventory decorations, will create a record for your Christmas notebook. 
Armed with this list, you'll shop the post-holiday clearance sales intelligently, store your decorations efficiently, and be able to retrieve specific decor items without having to tear through six or seven choked boxes.
Ready? Let's get organized ... for no more storage surprises!
To Read Today
A lovely holiday home ... on a budget? Get our best frugal strategies for a beautiful home: