Christmas Countdown Day 27: Plan Holiday Baking
Holiday baking should be a pleasure, not a chore. Time to plan holiday baking with an eye to simplicity.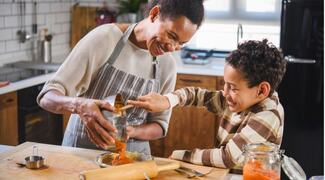 Dreaming of holiday baking? For many of us, kitchen creations are integral to the holiday spirit. 
We love the feeling of family connection as we tuck pie crust into grandmother's pie dish, or when we follow a candy recipe written in a great-grandmother's spidery hand.
But when is enough enough? It's too easy to take on more baking than we can handle!
Under the influence of Christmas magazines and over-the-top television cooking shows, grandmother's simple plate of pralines has exploded into six kinds of cookies, four kinds of candies and some powdered cocoa mix for good measure. 
Holiday baking should be a pleasure, not a chore. Time to plan holiday baking with an eye to holiday simplicity! Can you shorten, simplify and de-stress the baking list without losing the joy?
You'll spare your teeth. You'll spare your waistline. Most of all, you'll give yourself the truest of all Christmas gifts: time and energy to experience the season without stress. Dare to downsize!
To Do Today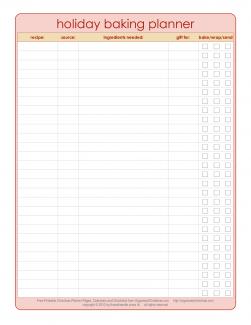 Plan holiday baking ... then get realistic
We'll organize holiday baking with a printable baking planner. On it, list all holiday baking you'll do, from Thanksgiving's pies to Santa's plate of cookies. 
Made your list? Now think hard about how to cut it down to manageable size! 
Double up on drop cookies, and forget the tedious rolled-and-cut out creations. Opt for melt-and-pour candies instead of arm-busting fudge. 
Replace elaborate cookie trays with mini-loaves of tea bread, or go whole hog and buy your Christmas goodies from your local baker.
Working from your new, realistic list, locate and check recipes. (And list them, if need be, on yesterday's holiday recipe tracker. No more mad searches for the "rolled and cut sugar cookie recipe that was so good last year" recipe!)
Finally, review each recipe and add needed ingredients to the shopping list.
In the coming days, be alert for supermarket specials on specialty ingredients. Try to buy nonperishable holiday foods this week and next week for all upcoming holiday meals and baking projects.