Christmas Countdown Day 24: Inventory the Pantry
Before you hit the supermarket? Inventory the pantry. Shop at home first, and save.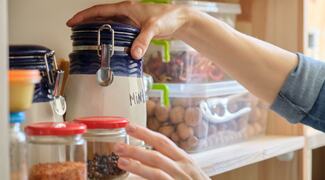 No question, holiday meals can put an unexpected burden on the budget. Solution? Get organized, and shop at home first!
This week, we'll inventory pantry areas, refrigerator and freezer before we begin shopping for holiday foods. 
Knowing exactly what we have and what we need to buy prevents that fuzzy "Oh, just throw in another can of olives!" mentality from setting on us at the grocery story--and keeps us from tossing stale food items months down the road. 
A bountiful meal with no waste makes the best use of our food dollars--and time and energy.
Similarly, we'll check the spice rack today, assessing the freshness of seasonal staples. Will we have enough sage for our dressing? Has the pumpkin pie spice lost it's savor?
Time to find out, when replacements are offered at the year's lowest prices at the market this week.
To Do Today
Inventory the pantry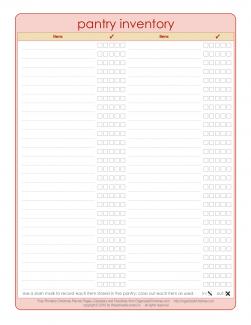 Will you really need to buy ten cans of chicken broth for holiday meals this year? It's time to check pantry or food storage areas and inventory holiday non-perishables before shopping for Thanksgiving.
Use a pantry inventory form to record supplies of canned goods, baking supplies and holiday staples. You'll know at a glance whether to load up on loss-leaders ... or whether your pantry is full this year.
Check spices for freshness
Fresh, savory seasonings are a must during the holiday season--but in many kitchens, jars and tins of spices languish for years, losing flavor over time.
Check your spice rack for freshness today. Newer products often include a "use by" date as a guideline. Otherwise, open each jar, and use your eyes and nose! A spice that has caked, changed color or lost it's smell should be replaced.
Add any needed replacements to the seasonal shopping list, and stock up when pre-Thanksgiving discounts hit the baking aisle!
For suggested dates and freshness tips, try this link:
To Read Today
A pantry's not a room, it's a state of mind. Get organized for efficient, easy meal planning and brush up your pantry power: