Christmas Countdown Day 23: Plan Holiday Meals
The secrets to stress-free holiday meal preparation? Planning--and sharing the work! Get holiday menu planning tips and printables today in the Christmas Countdown.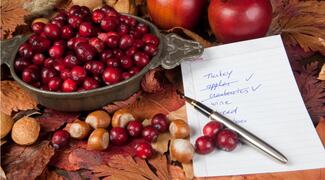 Holidays ahead ... and that means the feast is on us! Will you be ready to make memorable holiday meals?
Even experienced cooks can quail at the idea of cooking a holiday meal. Who hasn't run out of butter, curdled the gravy, or found themselves holding back an entire meal while waiting for one last item to finish cooking?
Not this year! The secrets to stress-free holiday meal preparation? Planning--and sharing the work!
Today's the day we break out our printable holiday meal planner forms, and organize those big dinners and festive brunches. Better, we'll consider ways to delegate and simplify holiday meal preparation ... for an organized Christmas.
To Do Today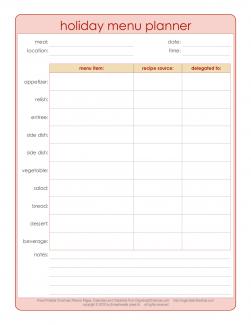 Plan holiday meals
Thanksgiving is a few days away: it's time to sort out holiday menu plans! While we began last week by planning Thanksgiving dinner, today we'll make menu plans for the rest of the season's festive meals.
Why? Because this week and next will see the year's best bargains at the supermarket! Holiday non-perishables such as canned pumpkin, cranberry sauce, frozen desserts and freezer rolls will be offered for sale as "loss leaders" in most grocery stores. 
Knowing what you'll need for the rest of the season's special meals lets you stock up now ... and save!
To begin, print a free printable holiday menu planner or designate a fresh sheet of paper for each holiday meal that will take place in your home. 
Thanksgiving Day? Christmas Eve? Christmas Day? New Years? Give each at-home meal a good hunk of space on the page for menu planning.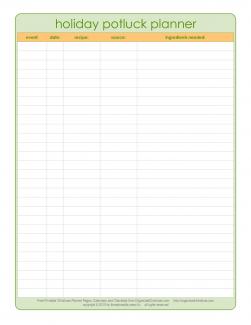 Next, use a potluck meal planner to list those meals that you will take away from home. 
Christmas brunch at Grandma's? A holiday pot-luck at church? If you'll need to bring a dish, note it down.
Once you've sorted out all the when-and-where issues, it's time to plan the meal itself. What will you serve--or delegate!--at each holiday meal?
Tradition has its advantages: if you always have turkey with cornbread dressing on Christmas Day, you't have to decide on the menu from one year to the next.
Consult recipes if needed, then list every element of the meal:
Appetizers
Relishes
Entree
Side Dishes
Vegetable
Salad
Dessert
Beverages
Can you delegate any of these items to guests or family members? Mark a big "D" next to the dish, and add a name.  
Refer to the filled-in planner page as you prepare each meal.
To Read Today
New to menu planning? Come up to speed on menu and meal planning: