Christmas Countdown Day 16: Renegotiate Gift Exchanges
Today, take a hard look at the family's traditions for gift exchange. Is it time to renegotiate?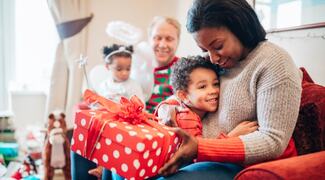 Time, finances, or changing family circumstances sometimes require adjustments to the holiday gift list. Will this be the year you renegotiate gift exchanges? 
Where has your gift-giving overstepped the bounds? Has an exchange with a friend or neighbor grown too expensive and elaborate over the years?
Perhaps it's over-elaborate expectations for adult family gifts, or an outgrown exchange with old school friends. Office gifts and "Secret Santa" exchanges can mushroom into an onerous obligation after a few years.
Will you be the brave soul who calls a halt? 
Yes, it's scary to be the first to state the obvious: that the given exchange has become unreasonable and burdensome. Nobody wants to be a Scrooge, and most of us feel we're all alone in resenting a gift exchange that's reached the end of the reasonable road.
Surprise! If you feel the ritual has been outgrown, chances are, the other participants agree. Most people heave a giant sigh of relief to reach an understanding in such cases. 
Take the lead! By reshaping a gift exchange that's lost it's meaning, you'll save time, money, and stress. Most of all, you'll bring the holidays back to their center: a celebration of life, love and friendship.
To Do Today
Renegotiate outgrown gift exchanges
Today, review and renegotiate adult gift giving. Can you simplify your family's "unwritten rules" to bring meaning back to seasonal gift exchanges? 
Draw names and set a price limit for a gift exchange. Could your family dispense with adult gifts in favor of gifts to charity or family service project? 
To Read Today
Need help understanding why you give as you do? Examine the unwritten rules of gift-giving--and grab some tips to reshape stale gift exchanges--with this article:
Gifting Guidelines: Understand The Unwritten Rules of Gift-Giving