Christmas Countdown Day 14: Inventory Wrap and Mail Supplies
Who doesn't love the parade of autumn decorations? Make them shine with a quick decor declutter.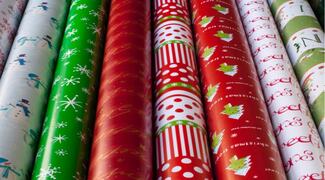 The decoration tide sweeps in with September's falling leaves, breaks against Halloween's ghosts and goblins, and is streaming full-force by the time Thanksgiving's turkeys and pilgrims arrive. Come Christmas, the average home is drowning in tinsel.
Do your visual field a favor: declutter tables, counters, mantels, shelves and the entire surface of your refrigerator before you decorate.   Using a sturdy box, corral all knick-knacks, photos, decorative items and mismatched socks, and stow the box in a dark closet. Don't even bother to sort your stuff--you'll do that when you return the items after the holidays.
Clear surfaces make a house look clean, and your decorations will shine in solitary splendor when they don't have to compete with ashtrays in the shape of armadillos.
Do your eyes a favor and store those knick-knacks . . . and get ready for Christmas!
To Do Today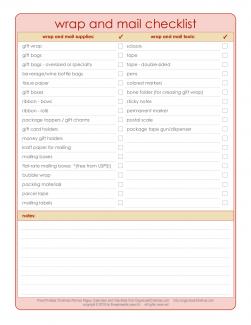 Inventory wrap and mail supplies
Today, cast a quick eye over the household's supplies of gift wrap, ribbon, bows, tape and postal supplies.
Use the Wrap and Mail Checklist to be sure you're ready to dive in to gift wrapping chores.
Add any needed items to the shopping list, to get organized for wrapping and mailing holiday gifts.