Christmas Countdown Day 13: Check Holiday Wardrobes
Heading into the holiday season, it's a good time to check family wardrobes. Dress up--or dress down!--in style this year. Free printable!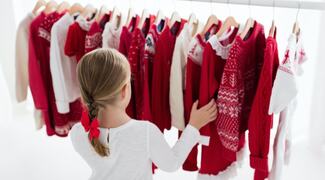 What's the state of your family's wardrobe?  Even if you trend to the casual the other months of the year, chances are, you'll get gussied up at some point during the holiday season. 
Posing for holiday photos, attending special worship services, or partying away December's Saturday nights, the Christmas season makes a special claim on the family wardrobe. 
Will you be ready? The time to check closets for holiday outfits ... is now!
To Do Today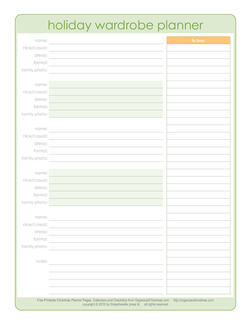 Check family wardrobes
Will your family be ready to dress for holiday dinners, church services or a trip to the ballet? Today, evaluate family wardrobe needs for the coming special events.
Moving room by room, check wardrobe needs for each family member. Yes, that may mean stuffing reluctant children into holiday finery--but better to learn today that the pretty little shoes are two sizes too small, than to have to cope with the knowledge on the night of the big event.
Add a printable Holiday Wardrobe Planner to the Christmas planner to record notes, and add any needed or replacement items to the shopping list. You'll find a better selection in stores if you start replacing needed items early, instead of waiting until the last minute.
You'll be ready ... and standing tall!
To Read Today