Christmas Countdown Day 7: Plan Pre-Holiday Home Improvements
Dreaming of a "holiday house" can be lovely--if pre-holiday home improvements are kept realistic. Cut to the chase with today's Christmas Countdown assignment!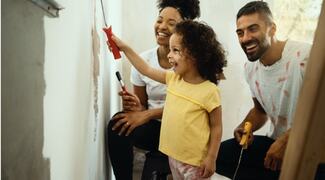 Good morning, Countdown friends, and welcome to Day 7!  Traditionally, today's the day we get real about pre-holiday home improvement projects--but I have never addressed this issue in a climate so challenging.
Talk about a perfect storm for pent-up decor fever!  2020 sent us home from work and school, and exposed all the places where our home isn't quite as comfortable as we might wish.  
As a result, our to-do lists got long ... only to meet a tough market.  High demand, transport bottlenecks and supply shortages have complicated the simplest solutions.  As the world re-opens, it's gotten much, much harder to plan and complete home projects.  
This year, factor in extra time, extra money as you plan pre-holiday updates.  Keep it simple, to keep any projects on the rails, and on time.
Now, where's my list??  
--Cynthia
---
There's nothing like the approach of the holiday season to make our hearts turn toward home--and home improvement projects!
Seeing holidays ahead can sharpen our vision when it comes to the condition of the house. Suddenly, we notice ... everything!
It's only natural to want to celebrate Christmas in the home of our dreams. Problem is, our eyes can be bigger than our calendars (and wallets and time and energies) when it comes to preparing the house for the holidays. 
How do we keep the pre-Christmas fix-up list within the realm of reason at this time of year?
Answer: we get grounded with a Holiday Home Spruce-Up exercise.
To Do Today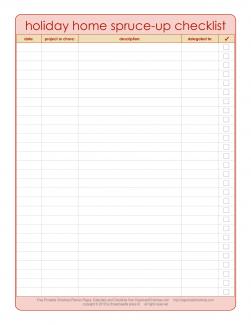 Plan holiday home improvement projects ... that are grounded in reality
It's not just "visions of sugarplums" that dance through our heads when we think of the holiday season. Many of us also succumb to Holiday House Fever: an intense desire to begin major home decor projects in the weeks before Christmas. Anybody who's ever decorated a Christmas tree before a half-painted wall knows the risk: our dreams overpower available time, energies and resources. Result: damp carpets, naked windows, wet paint and lots of stress.
Today's assignment, the Holiday Home Spruce-Up Exercise, is a short course in realistic planning; it will anchor our dreams and help us identify realistic, doable goals for pre-holiday home improvements. When we're finished, we'll have a short checklist of achievable, realistic goals for holiday home improvements.
Ready? It's a sure cure for Holiday House Fever!