Christmas Countdown Day 3: Set Up A Holiday Calendar
Keeping calm in holiday chaos takes planning ... starting with a holiday calendar. Free printables make it easy!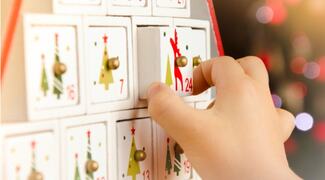 Good morning, dear readers and friends!  
Traditionally, Day 3 of the Countdown addresses the concept of a family calendar:  a one-stop tracker for holiday appointments and events.  In the past, we've relied on the family calendar to avoid over-scheduling, and to keep a busy family on-track.
This year?  Our celebrations will look much different ... and so, perhaps, will our calendars.   Will we find ways to celebrate small, safe and close to home in this second pandemic year?
As I begin my own planning, I will focus on one intention:  to keep Christmas safely, happily and memorably.  As the season unfolds, I know I will discover quiet joys, unexpected surprises and calm moments of happiness, notwithstanding the chaos and clamor in the outside world.  
This is the year to reach for joy, hard!  I vow to follow my heart deeper into celebration, to turn aside from complaint or comparison, and to seek the light at the heart of the holiday season.  
Will you join me?
--Cynthia
---
What's the number-one way to cut Christmas stress? Keep a careful eye on the calendar! 
No doubt about it, December days can be busy. Keeping track of commitments, events and activities keeps the season real. If you know where the family must go, it's easier to get there--and to say "No!" to too many obligations.
Does a family calendar guide your holiday plans? It should ... if the goal is an organized Christmas! 
To Do Today
Set up a family holiday calendar
Even the most organized among us can stub a toe when the madness of the holiday season descends! With family members participating in special seasonal activities, upended schedules and general holiday hubbub, the holiday season is no time to rely on memory or sticky notes. 
Print or designate monthly calendar pages just for the holiday season, and post them in a public place. Then enter all holiday appointments and events out front, where you can see them.
Want to get fancy? Color-code entries by family member, or by category. Make it even simpler to know who must go where, when--so you can make good decisions as the season progresses.
Make travel arrangements and schedule seasonal appointments
Will your family travel during the holiday season? Make travel plans and reservations this week; early birds score better prices and flexible options.
Will you host houseguests? Make arrangements for any overnight guests.
Arrange for family photo sessions for holiday giving or photo Christmas cards
Schedule carpet cleaning now! As the holidays approach, business picks up. Call now for your choice of appointment times.
To Read Today
Use a calendar, cut holiday stress--so get the how-tos here:
Simplify Your Holidays with a Christmas Calendar
To Print Today