Christmas Countdown Day 2: Make a Christmas Planner
Bring order to holiday planning with a Christmas planner. Free for the printing, it's your road map to an organized holiday season.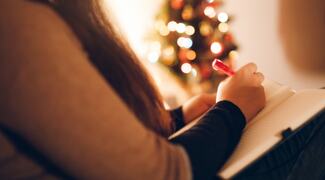 Good morning, dear readers and friends!  It's Day 2 of the Christmas Countdown, the traditional point where we pull out our Christmas planner notebooks and print the year's calendars and checklists.
Over the years, traffic counts tell the tale:  people love this assignment.  Old friends haul out last year's notebook, while new friends jump into the concept.  On this day,  I get email, printers get humming, and the server gets huffing and puffing.   
I also get questions about this program's reliance on paper--along with requests to produce an app--and I'm often unsure how to answer.
Why Use Paper?
Make no mistake, apps directed at holiday planning are out there.  As an early adopter, I've been sampling them since my Palm Pilot days--but I've never found a screen-based alternative that suits me as well as a 3-ring binder holding simple paper lists.
There's something grounding, for me, in the physical presence of my lists, my notebook, my pens.  I can flip back to earlier years' gift lists, menus and calendars with ease--and the memories associated with holiday planning are strong in the very fiber of the paper.
That physical link means more to me, this year, as I struggle to redefine holiday celebrations to reach across social distance.  As I review how my holidays have changed over the years, I find more acceptance for the changes that will be required in the current season.  Touching base with Christmases past reminds me that the season isn't static--and that celebration can be found in traditions large and small.
Do you use an app-based planner?  Let me know; I'd love to hear more about solutions that work, and share them with our readers.
Until then, though, it's me and my printer.  Time to haul out my Christmas planner ... and my memories.
--Cynthia
---
Today in the Christmas Countdown, we introduce the tool of choice for organized holidays: a Christmas planner. 
Whether you're new to the concept, or have been using one for years, your Christmas planner is about to become your new best friend in the days and weeks to come.
Your planner will be home to lists, notes, ideas, recipes, decor inspiration, receipts, menus, inventories and journal pages. It's your personal record of the planning, deciding and doing that goes into creating the Christmas of your dreams. 
Form is less important than format. Cutting-edge cyber types track holiday planning with smartphone apps, while the crafty among us create lavish, lovely variations on the planner theme. Bullet journal enthusiasts doodle away their holiday plans.
But for many, the Christmas planner takes shape in a tried-and-true form: a simple 3-ring binder. To make it easy, you'll find scores of printable calendars, planning pages, forms and dividers to use to create your own Christmas planner.
Ready to dive in? It's all here, at Day Two of the Christmas Countdown!
To Do Today
Start (or find!) your Christmas planner
Easy to make and easier to use, a Christmas planner cuts through holiday clutter and keeps planning on track. Home to lists and recipes, calendars and gift ideas, this simple tool is the architect and source of a serene celebration.
How will you build your power tool for Christmas organizing? Browse the Christmas Printables library to jumpstart your holiday planner.
To Read Today
What's a Christmas planner, and how do I make one? Get organized for the holiday season with a D*I*Y holiday planner: