Christmas Countdown Day 34: Record Holiday Memories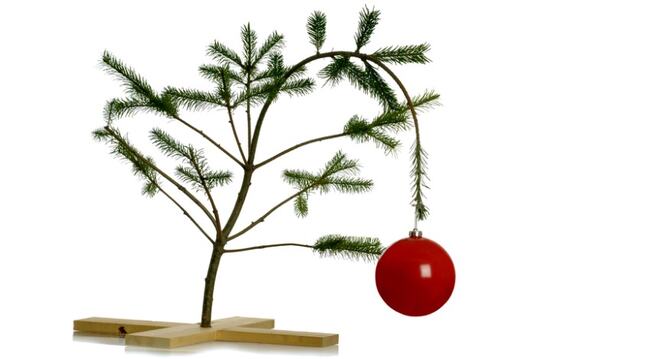 Who says holiday traditions have to be "sweet"? Thinking about Christmas trees, I can't help but laugh at my childhood memories. 
An Episcopalian home, our family kept a "good Advent". While we observed special Advent customs and decorations, no Christmas tree entered our home until December 24, the first day of the liturgical Christmas season. The tree then stayed up until Twelfth Night, and we'd make a little family party as we took it down on January 5th.
"Awwww!", I hear you say. Well, there was just one tiny little problem: our family lived in hot, dry Las Vegas, Nevada. Buying a once-fresh tree on December 24 was an ever-changing adventure.
Most years, we ended up "stealing" a tree. Oh, we'd try to pay, but by Christmas Eve, most tree lot operators had closed their doors and gone home. If anyone was around, they were usually grateful to have one less tree to dispose of on December 26. Jackpot!
This situation gave a very "Las Vegas" element to our Christmas tree selection. It was always a gamble.
Some years, we'd bring home the tallest, freshest, most noble--and most expensive--tree on the lot. Seems that nobody else could afford it, so the lot's beauty would be left standing majestically, waiting just for us.
More often, though, we had our choice of the "Charlie Brown" trees. We'd sort through squashed stacks of dried and browning trees, looking for one with enough life left to bring inside. "This one's okay," I'd call, "if you put it in a corner and add a LOT of tinsel." 
My sister would disagree. "It's UGLY, you creep!" She'd hold up her candidate, and I'd scoff back. Ah, the magic that is Christmas, sibling rivalry and all. 
Finally, my father would make an executive decision. If he was sick enough of the squabbling, he'd make that decision with less than all available data. I.e., he'd pick the first tree that wasn't an outright fire hazard, and we'd add another memory to the family scrapbook.
Then, of course, who could decorate a Christmas tree without the Great Tinsel Fight? 
All eldest children and most Type A personalities fall into the category shared by my mother and myself: One Strand At A Time Tinsel Hangers. Second-borns, Type Bs and most fathers fall into the second category: This Is Boring So Just Ball It Up and Toss It On The Tree Tinsel Hangers. 
There was no middle ground. After all the ornaments and lights were hung, the 23-cent packages of tinsel would come out, one per person. "One strand at a time!" Mom would say, and she and I would begin to coat the tree with shining silver, one strand at a time.
Rebellion brewed early in the other camp. Dad opted out, retiring to a chair to sip eggnog and supervise the proceedings. When harassed enough, Mom would appeal to him: "John, make Junior stop tossing the tinsel!" "Junior," Dad would drawl in my brother's direction, "stop tossing the tinsel." 
My sister was sneakier. She'd do her tossing on the opposite side of the tree from Mom. Ergo, Big Sister Cynthia would step in. "Mom! Barbara's tossing tinsel!" Amid the fussing, the tattling, and the laughing, we'd cover the tree with shining strands. 
And each year, that poor Charlie Brown tree looked beautiful. No matter what the "before", the "after" always won our hearts, squashed and all. 
These days, family allergies dictate artificial greens in the Ewer household--and the mother in me sighs. My poor deprived children will never know that most special holiday tradition: stealing a dry, squashed tree on Christmas Eve.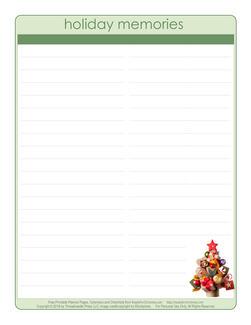 To Do Today
Capture the holiday magic for years to come: record those memories! 
Keeping a record of holiday high points means you'll never again lose the fun and good feelings. Record each year's special moments on a printable holiday memories journal form.
Continue interior and exterior decorating.