Christmas Countdown Day 4: Connect With Holiday Values
Good morning, dear readers and friends!  Today's the day we tackle the Holiday Values Exercise: a set of simple questions designed to focus on the meaning behind our celebration.
Truth to tell, many of us skip this assignment.  Compared with the fun of making a gift list or dreaming up decor, taking paper and pencil to answer uncomfortable questions doesn't come close.
Word from on high?  Do it anyway.
Each year, I do this exercise, and each year, I come away from it with something valuable.  Over time, my answers have pointed the way to a simpler, more centered celebration--and they've laid out the areas where I'm still letting stress and over-commitment in the door.  
Better, having my values laid out front-and-center in my Christmas planner--and in my Christmas planning--keeps my celebration where I want it:  focused on joy.
What do you really want for Christmas?  Find out today, with a Holiday Values Exercise.
--Cynthia
---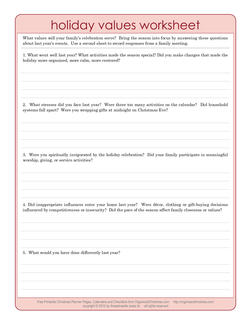 What do you really want for Christmas? For most of us, our dreams center around family, faith and friends: a celebration of our deepest joys. 
Yet too often, those dreams go by the wayside as the holidays take on a life of their own. What can cause this distortion of what we truly want?
The season brings many pressures to bear on our celebration. Holiday commercials raise their voice to an unavoidable shriek during this time of year. Lavish television programs showcase food and décor standards out of all reality. A trip to the mall can bring a quick end to a wish for a homemade holiday; all that glitz can be seductive!
Even our families can be parties to holiday distortion. Spouses may bring different expectations and family traditions to the same holiday. Children may clamor for a Christmas measured by a classmate's yardstick. Family traditions can live on well beyond their time, no longer enjoyed but not yet willing to leave.
Solution? Connect with your holiday values before you plan for the holiday season. Put your most cherished wishes at the center of your celebration ... for an organized Christmas.
To Do Today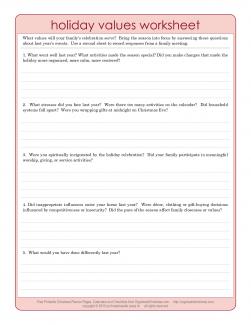 Complete the holiday values exercise
To keep the season centered around the ideals your family holds dear, make a pre-season holiday values check. This short values exercise will keep you focused as you prepare for the holiday celebration.
Use the printable holiday values worksheet to record your findings. Add a second sheet--or take notes--to track answers given by other family members in a second, fact-finding session.
Use the results to trim your celebration to the things you hold most dear ... to do less and enjoy it more this holiday season.
To Read Today
How to have the holiday of your dreams? Focus on family values! 
Before the Season: Focus on Family Values
Will you visit family or take a Christmas holiday? Try these tips to keep the "happy" in holiday travel: