Around the house, the calendar turns .... so make it an organized year with these tips, resources and printables for holiday planning, Christmas organizing, back-to-school and other seasonal holidays.
Posted by Cynthia Ewer on December 31, 2009
It's the magic night: a new decade dawns at midnight!
Along with the balloons and streamers come the New Years' Resolutions--it's as much a part of the celebration as the noisemakers! Will you resolve to get organized, lose weight, bring order to your home?
This year, resolve to keep those resolutions, not just make them! Try these tips from sister site Organized Christmas to make New Years' Resolutions a vehicle for real personal change:
New Year, New You: Keeping New Years' Resolutions
Don't miss the free printable New Years' Resolutions tracker:
Posted by Cynthia Ewer on October 29, 2009
Halloween night is coming ... and so is the morning of November 1st! For parents, that's the time when the excitement of Trick-or-Treat night gives way to post-Halloween reality: what to do with all that Halloween candy?
Whether they're worried about tooth decay and nutrition, or simply want to avoid the stress of a week of candy-fueled behavior from the little ones, smart parents put strategies in place to handle the Trick-or-Treat haul.
Check out these ideas to repurpose, recycle and reduce the amount of Halloween candy in your organized home from sister site Organized Christmas:
Halloween Candy Overload? Repurpose, Recycle and Reduce the Trick-or-Treat Haul! More »
Posted by Cynthia Ewer on September 22, 2007
Autumn is here! The season of flying leaves signals the coming of winter; time for a fall home maintenance checklist!
This is the time of year to check heating systems, weatherstripping and the condition of walls, windows and roof. A simple inspection now can save a world of cold-weather trouble in the months ahead.
To prepare your home for cold weather, try these fall home maintenance tips from State Farm. They'll see you snug and warm in the season ahead:
Posted by Cynthia Ewer on September 12, 2007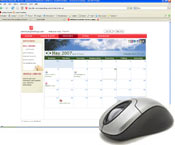 American Greetings' free online calendar sends birthday and event reminders, directly to your email or cell phone.
The online calendar even sends you eCard suggestions, for remembering special people on special days.
Keep track of important events, coordinate schedules and express your personal style - all with this free online calendar.