Posted by Cynthia Ewer on August 27, 2007
When blogger Elizabeth and her friend Kim took on the challenge to create household notebooks, they aimed high.
Deciding to create more than just a simple binder for household information, they envisioned their notebooks as "living books" that would help teach their daughters to keep house.
In these posts, Elizabeth shares her Foss Family Home Companion, while Kim outlines her Family Management Journal. Both notebook tours go further: they explain the thinking behind these two young mothers' decision to create order for their families, now and for the future.
Don't miss Kim's downloadable dividers and forms in Microsoft Word format. Check them out:
Elizabeth's Family Home Companion
Home Management Journal - The Basics
Home Management Journal - Housekeeping
Posted by Cynthia Ewer on August 26, 2007
If you're visually oriented, there may be resistance to the idea of a household notebook. Who wants to flip all those pages ... and what happens when you set the mail down on top of your daily schedule?
Clever blogger Jumping On The Bed has an in-your-face solution: a home management whiteboard. Using a large dry erase marker board, she juggles schedules, lists and information right on the wall. Check out her not-notebook solution for better home management!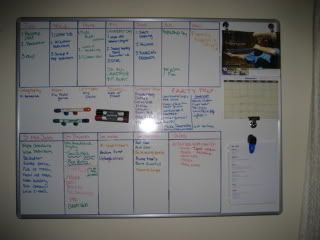 More »
Posted by Cynthia Ewer on August 13, 2007
Printers ready? Here's a super resource for freezer cooking: printable labels for frozen foods. They've got that Martha style, but come with a super innovation: an embedded calendar to make it easy to mark the "frozen on" date.
Martha advises using a full-page label paper to create stick-on labels, but it's simpler and cheaper to print on inkjet paper and slide the label between double freezer bags.
The printable is in .pdf format, so you'll need the free Adobe Reader to print:
Posted by Cynthia Ewer on August 9, 2007
Need inspiration for your notebook? Check out this pretty and personalized household notebook from blogger Such Treasures.
Her hand-decorated cover, custom divider pages and thorough outline of binder contents make this a four-star notebook tour! Get inspired:
More »
Posted by Cynthia Ewer on July 14, 2007
How do working mothers manage menus and meal planning? Working mom Leslie Kaufman's story (published in no less than the venerable New York Times) shares valuable strategies for feeding the family fast--and well.
We liked the menu planning concept of having four core dishes to save time and please picky palates:
I have four core dishes: meatloaf, pot roast, roast chicken and meatballs. I prepare the most basic, pared-down version of each dish. By now it is reflexive. I could do it in my sleep. Perhaps I have. My basic roast chicken is covered in oil and sprinkled with kosher salt and paprika, and that's that.

Every week I make at least one of those dishes and leave it in the back of the fridge to do emergency duty, as in: "I am not eating anything stuffed with spinach. That's disgusting." And like a great friend, it never fails me in a crisis. It can be reheated as a meal, sliced for sandwiches, diced for a pasta sauce and used with cheese to fill a tortilla or a twice-baked potato.
Posted by Cynthia Ewer on June 14, 2007
Packing for family travel? A packing checklist can save your sanity--and your vacation. Now it's easy to make a custom online checklist with the Universal Packing List.
An interactive Web page, UPL asks for basic travel information--dates, family members, activities, weather--and generates a comprehensive custom list to guide packing for family travel. Print it out, and you'll never again forget the sunblock!
Posted by Cynthia Ewer on April 14, 2007
Real Simple describes setting up Systems for Managing Your Mail that will conquer a huge source of clutter and leave you free to enjoy the Spring and Summer days that are quickly approaching!
Their advice?
Create a workspace for handling mail
Make bill paying more organized
Manage Important Documents for easy reference
Create a system for Tax & Financial papers
Create a system for Magazines & Catalogs
For each type of incoming mail, RealSimple offers ideas and examples of creating systems and streamlining the process.
There are even forms for:
Posted by Cynthia Ewer on February 14, 2007
Jeffrey Yago, of Backwoods Home Magazine, walks you through a list of supplies you will want to keep in your trunk in the event that you are stranded in your vehicle. All items pack up nicely in a small cooler.
Bonus? It makes a great emergency kit to grab during severe weather warnings, or in the need to evacuate.