Posted by Cynthia Ewer on September 14, 2007
For kids, school success can hinge on good organization and time management skills. Learning to manage time, use schedules and a planner are skills needed by every student.
Give your back-to-school students a refresher course in time management, with this just-for-kids Web site from PBSKids.org.
Find time management tips, lessons in planner basics, and free printable daily schedule, weekly planner and calendar pages here:
Posted by Cynthia Ewer on September 14, 2007
Now that everybody and their dog (literally, in the case of Petsmart) is issuing club-card tracking devices for frequent shoppers, wallets are in for a serious case of overload.
Choices at the checkstand aren't that great. Either you fumble through a stack of club cards to find the right one, or use keytabs and hand over your keyring for manhandling by germy-handed strangers.
Enter the bar-code card hack from Instructables. Scanning all club-card bar codes into Photoshop, you create and laminate a single source for club-card bar codes. Kill the keytabs and cut wallet clutter:
Don't want to go the DIY route? Here's a free online service that will create a single printable barcode card from eight of your current club cards:
Posted by Cynthia Ewer on September 14, 2007
Online to-do lists come and go, and too often, they're pale versions of standard corporate task management programs. Not Zirr.us--a free Web-based service now in beta!
This intuitive online task tracker shows pending to-dos in checklist or tag cloud view. Left-brainers will love the color-coding and visual impact; right-brainers will like the simplicity and ease of list management:
Posted by Cynthia Ewer on September 12, 2007
Has the family drawn battle lines over housework in your home? Chill the chore wars in your home with Chore Buster, a free online service to organize household chores.
The premise is simple: enter people and enter chores in the easy online interface. Rate each chore for difficulty and desirability, and note how often it needs to be performed.
Chore Buster will generate fair, balanced chore lists for every member of the home, and e-mail them to you daily or weekly.
Take the hassle out of the chore checklist ... and did we mention that it's free?
Posted by Cynthia Ewer on September 12, 2007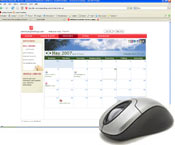 American Greetings' free online calendar sends birthday and event reminders, directly to your email or cell phone.
The online calendar even sends you eCard suggestions, for remembering special people on special days.
Keep track of important events, coordinate schedules and express your personal style - all with this free online calendar.
Posted by Cynthia Ewer on September 11, 2007
They're handy kitchen helpers, but can do so much more to organize life at home: zipper food storage bags!
Check in with blogger The Optimized Life for a list of 25 unusual uses for food storage bags. We liked this one:
"Turn a Ziploc bag into a pastry bag by snipping off a tiny corner. This allows you to frost a cake without any special tools.
Along the same lines, we'd add using a food storage bag to fill devilled eggs. Spoon the filling into the bag, snip a slightly larger corner, and heap the filling high! When finished, toss the bag for easy clean-up.
RealSimple.com weighs in with ten more unusual uses for zipper food storage bags:
Systems analysis. So weighty. So professional. So mysterious. Yet nothing can streamline an organized home like a well-crafted set of household systems. Today, we focus on laundry and clothing systems. What do they do? How do you develop them? What benefits will establishing laundry and clothing systems give to you and your family?
Chances are, you already have these systems in place. After all, a system is just a set of organized items, decisions or actions, designed to work together to achieve a common end. In terms of an organized home, a clothing system, for example, would be a set of related decisions, actions or items, designed to work together to supply family members with an adequate supply of clean, well-fitting and appropriate clothes.
However, there are systems, and there are systems. In a disorganized home, systems springs up unassisted. There's no thought or planning underlying them, so they don't work particularly well. Most of the time, the steps of the system are only instituted when things break down: there are no clean clothes, so someone does the wash. Yes, clothing gets clean, eventually--but there's tremendous waste of time, money, resources and family harmony built into haphazard systems.
Does this scenario describe your household's laundry system? More »
A cleaning apron? What, me?
Yes, you! Forget those '50's images of housewifely frou-frou and ruffles: a cleaning apron has a place in the modern home manager's toolkit.
A cleaning apron speeds cleaning chores. Spray bottles of cleaning solution hang ready for use. Apron pockets lined with plastic bags corral bits of trash. Cleaning tools live at the tips of the cleaner's fingers.
Stockpile a stack of cleaning cloths in one pocket, a cleaning sponge in another. With a cleaning apron, supplies, tools and materials are literally close to hand.
The pros know! Professional cleaners swear by cleaning aprons. Savvy home managers purchase cleaning aprons from mail order houses and janitorial supply stores to get the professional. edge on house cleaning. More »